SUSS is a new musical collaboration from some old hands—Gary Leib, Pat Irwin, Jonathan Gregg and William Garrett, under the general direction of Bob Holmes. Between them there are too many credentials to list, all over the map and everywhere in between. Straddling the intersection of ambient and country/western music, SUSS sound like the future and the past, sci-fi folded over on spaghetti westerns. It's music that would be appropriate for both a trip to Death Valley and aboard the International Space Station; however, your living room will do in a pinch.
SUSS have played a few shows lately supporting last year's Ghost Box, released by the reliably adventurous New York label, Northern Spy Records. They've got a new 7″ as well, "Chisholm Trail" b/w "Aurora," the latter previewed last month live at Union Pool, the vinyl due out this Friday. SUSS take it low and slow here, measuring out improvised passages blending into the album's compositions. In person, the interior Brooklyn environs melted away as the band mapped desert territories under the stars. This recording will take you partway there, but I also recommend heading out to see them live your first opportunity. Do also head over to Bandcamp, where you can pick up the record and single.
I recorded this from our usual spot at Union Pool, an expert board mix from FOH Leslie Wolf combined with room mics. The sound is excellent. Enjoy!
Download: [MP3/FLAC]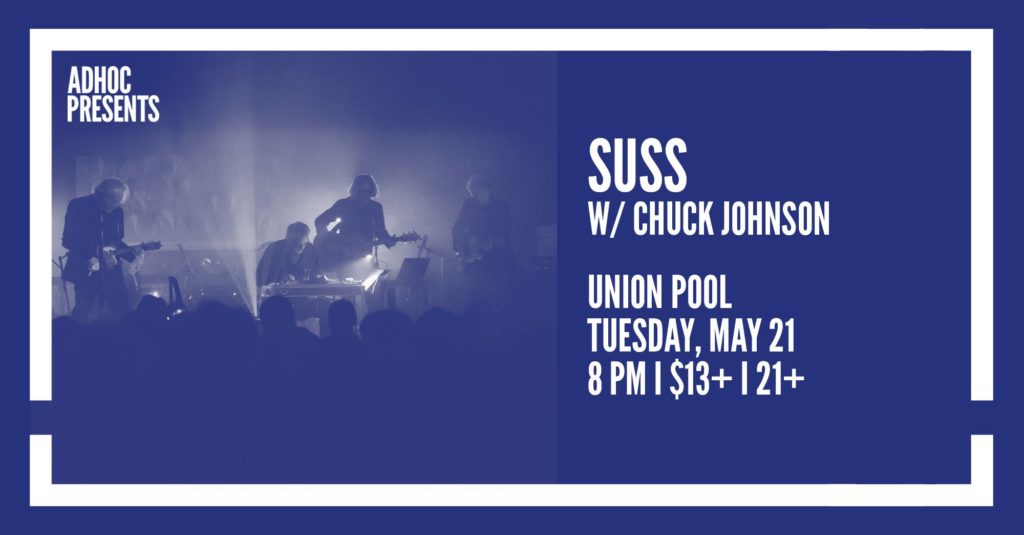 SUSS
2019-05-21
Union Pool
Brooklyn, NY
Recorded and produced by Eric PH for nyctaper.com
Soundboard (engineer: Leslie Wolf) + MBHO KA200N/603A > Naiant PFA >> Sound Devices MixPre-6 > WAV (24/48) > Adobe Audition CC (mixdown, limiter, compression, normalize, fades) > Audacity 2.0.5 (downsample, dither, tracking, tagging) > FLAC (16/44.1, level 8)
Tracks [47:14]
01. Wichita
02. Big Sky
03. Late Night Call
04. Steam
05. Aurora
06. Gunfighter
07. Canyonlands (Return to Wichita)
08. After the Storm