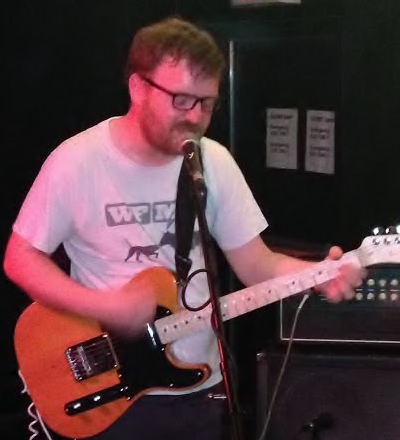 [photo by nyctaper]
So Cow released their excellent new album The Long Con on September 16, a date that fell square in the middle of a rare US tour. The tour was scheduled to coincide with the excellent Gonerfest thrown by their record label Goner. The tour also included two NYC shows, and we caught the second one at Cake Shop last week. This was the first time we've seen So Cow in over four years since a great set at the now long-departed Monster Island Basement in early 2010. At that point, Brian Kelly was playing with a tour band and recording alone, but now So Cow is a proper working band and The Long Con is the first full length album with the trio. The result is that the album sounds more like the live show we encountered in 2010 and again last week, and less like a Kelly bedroom recording. At Cake Shop, the band worked through a nice mix of material old and new, including the first single from the album "Barry Richardson" that we are streaming below. The album has received some excellent reviews, including a fine piece in PopMatters this week. We expect that the positive attention will propel this excellent band and that it won't be four-plus years before we see them live again. At least I hope it won't be.
I recorded this set with the Sennheiser cards mounted to the short ceiling in front of the stage and mixed with DPA omnis positioned in front of the stacks. The stage-mount provides a clear capture of the instruments while the stack tape is vocal heavy. The mix is adjusted to accentuate the positives of both sources and the result is a superb recording. Enjoy!
Stream "Barry Richardson":

Download the Complete Show [MP3] / [FLAC]
Note: All of the material on this site is offered with artist permission, free to fans, at our expense. The only thing we ask is that you download the material directly from this site, rather than re-posting the direct links or the files on other sites without our permission. Please respect our request.
So Cow
2014-09-20
Cake Shop
New York NY
Digital Master Recording
Sennheiser MKH-8040s + DPA 4061s > Edirol R-44 (Oade Concert Mod) > 24bit 48kHz wav file > Soundforge (level adjustments, set fades, downsample) > CDWave 1.95 (tracking) > TLH > flac (320 MP3 and Tagging via Foobar)
Recorded and Produced
by nyctaper
Setlist:
[Total Time 41:10]
01 [intro]
02 Sugar Factory
03 Get Down Off that Thing
04 To Be Confirmed
05 League of Impressionable Teens
06 [banter – fly]
07 Operating at a Loss
08 Waltzer
09 Ruane vs The A Bomb
10 High Standards
11 I Hardly Know You
12 [banter – far right]
13 Barry Richardson
14 [banter – thanks]
15 Nutbush City Limits [Ike Tina Turner]
16 Casablanca
17 [banter – Scottish Independence]
18 To Do List
If you download this recording, we expect that you will PLEASE SUPPORT So Cow, visit their artist page at the Goner Records site, and purchase The Long Con from the Goner Records website [HERE].