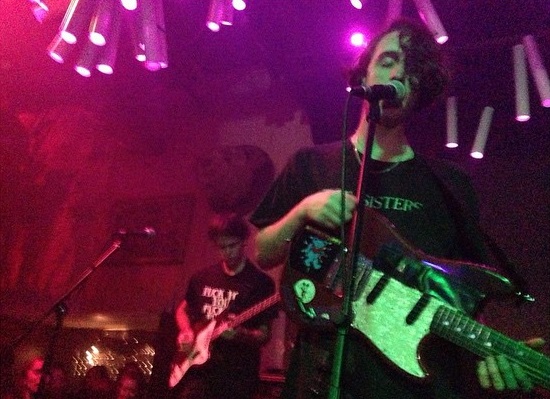 [photo by Brianna Duzich]
Its comforting to say goodbye to things we love by coming full circle to our earliest experiences. My final show at Glasslands was a wild night from Beach Fossils — a band who've played much larger gigs in recent years but who returned to their roots in the final week of the venue. We first saw Beach Fossils at Glasslands as an opener of a four-band bill way back in January of 2010. It was one of their first full band shows ever. Their first career single was "Daydream" and it wasn't released until February of 2010. That song was performed at the gig five years ago, and that track closed this 2014 set (and its streaming below). In the last five years, the band has released two excellent albums, reached the Billboard Indie charts, sold out Bowery Ballroom and reached several other milestones. Indeed, Dustin Payseur and his wife (and former Captured Tracks General Manager) Katie Garcia recently started their own label Bayonet Records. On Wednesday, it was clear that although this is a band looking forward, this was a night for looking back. Dustin made multiple references to the venue and the band's history at Glasslands and Beach Fossils played a lengthy set of material from their entire career, not just the newest album Clash The Truth. This was yet another sellout among Glasslands' final gigs and the crowd was energetic and very animated — bopping along with each song throughout the entire set. Personally, this was a very appropriate send-off to a venue that we've attended for nearly eight years — a fun band on a fun night visiting a memorable past. Goodbye forever Glasslands.
I recorded this set with the installed Naiant Cardioids mixed with an excellent board feed provided by house FOH Chris Madden. There is an intermittent hissing noise, which is the smoke machine onstage audible in both the room mics and the soundboard feed. Otherwise, its a superb recording. Enjoy!
Stream "Daydream":

Download the Complete Show [MP3] / [FLAC]
Note: All of the material on this site is offered with artist permission, free to fans, at our expense. The only thing we ask is that you download the material directly from this site, rather than re-posting the direct links or the files on other sites without our permission. Please respect our request, and feel free to repost the Soundcloud links.
Beach Fossils
2014-12-17
Glasslands Gallery
Brooklyn, NY USA
Digital Master Recording
Soundboard + Audience Matrix
Soundboard [engineer Chris Madden] + Naiant X-R Cardioid > Sound Devices 744t > 2x 24bit 48kHz wav files > Soundforge (level adjustments, set fades, downsample) > CDWave 1.95 (tracking) > TLH > flac (320 MP3 and Tagging via Foobar)
Recorded and Produced
by nyctaper
Setlist
[Total Time 1:20:12]
01 [introduction]
02 Generational Synthetic
03 Shallow
04 [banter – Grasslands]
05 Vacation
06 Careless
07 What A Pleasure
08 Birthday
09 [banter – shots]
10 Sleep Apnea
11 [banter – see you]
12 Youth
13 [banter – holiday party]
14 Clash The Truth
15 Permutation [new song]
16 [banter – memories]
17 Calyer
18 [banter – math]
19 Taking Off
20 [banter – Devo tease]
21 Crashed Out
22 [Nirvana tease]
23 Daydream
24 [encore break]
25 [instrumental]
26 Twelve Roses
If you download this recording from NYCTaper, we expect that you will PLEASE SUPPORT Beach Fossils, visit their website, visit their Facebook page, purchase Clash The Truth from Captured Tracks [HERE] and purchase future releases from Bayonet Records [HERE].