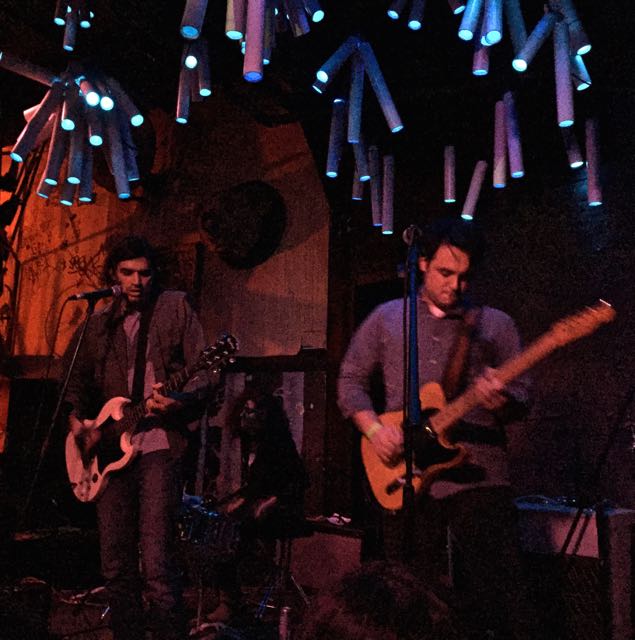 Spacin' were the right kind of band to see in my last time at Glasslands. Live, they're not a fussy bunch: They take the stage, launch into their thing, and sear your ears without pretense. They're not guaranteeing an upscale kind of rock show; this lo-fi Philly band is guaranteeing a good time. Likewise, even in its quasi-DIY last incarnation, Glasslands was never trying to be a slick-sheened rock club. Glasslands wanted you to feel welcome as soon as you got in the door, and to have a blast.
Although this was a different formation than the Spacin'/Purling Hiss beast I saw at Hopscotch a few months earlier, Spacin' played several numbers from that set as well as some others I have come to know well. The band's cover of MC5's "American Ruse", heavily retooled in Spacin's image, is always a high point. As that eight-minute rocker wound down, the band segued into a psychedelic intro that led into the bread-and-butter mid-set of "Human Condition" followed by "Sunshine No Shoes". For the band's moment on the Glasslands stage, they played the appropriate-enough "Empty Mind", with its heavy-chugging bass line and ample opportunity for exploration.
Even if we won't be able to visit Glasslands anymore, the spirit of the place will live on elsewhere. Where there are bands and fans in need of a real home, a place where you feel less like a customer and more like a welcome friend, there will be right-minded people there to fill that gap.
I recorded this set with our installed sound system at Glasslands and a soundboard feed by Josh Thiel. The sound quality is quite good and much better than the Spacin'/Hiss set earlier this year, but it's still gritty enough not to confuse anyone what this is about.
Download the complete set: [MP3] | [FLAC]
Stream the complete set:

Spacin'
2014-12-14
Glasslands
Brooklyn, NY USA
Exclusive download hosted at nyctaper.com
Recorded and produced by acidjack
Soundboard (engineer: Josh Thiel) + Naiant X-R (PAS, DFC)>Roland R-26>2x24bit/48kHz WAV>Adobe Audition CS 5.5 (mix down, fades)>Izotope Ozone 5 (EQ, harmonic exciter, imaging)>Audacity 2.0.5 (tracking, amplify, balance, downsample, dither)>FLAC ( level 8 )
Tracks
01 Over Uneasy
02 American Ruse [MC5]>
03 Human Condition
04 Sunshine No Shoes
05 Empty Mind
If you enjoyed this recording, PLEASE SUPPORT Spacin', check them out on Facebook, and buy their album Deep Thuds from Midheaven Mailorder.