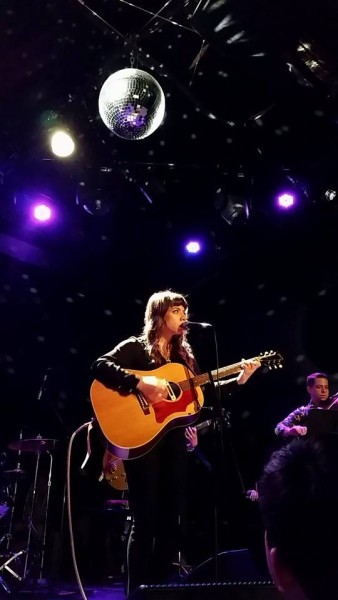 [photo by Kelsey]
We have followed the career trajectory of Hurray For The Riff from their very beginnings playing small clubs, basements and rooftops in NYC. We were so pleased to still be invited to join the party when the band celebrated their "Bowery Moment" last Friday night — a healthy sell-out of the Bowery Ballroom with friends and family in attendance. Its definitely a "we made it" night for bands and particularly sweet for HFTRR who've been working hard at their craft for a decade. The recent years have been kind them as we outlined when we caught them at the XPonential Festival last Summer, but that first Bowery night is always a special one. For the show the band worked through a setlist that featured primarily tracks from the last two albums Look Out Mama and Small Town Heroes but also a nifty Lucinda Williams cover (from their covers album) and one brand new song "Living in the City", that Bronx-born Alynda Lee Segarra dedicated to NYC. Hurray For The Riff Raff is currently on an extensive US tour that is going through the South and Midwest before we'll catch up with them again at Mountain Jam in June.
I recorded this set with the Schoeps cardioids mounted in our usual Bowery spot and mixed with an excellent board feed. The sound quality is superb. Enjoy!
Download The Complete Show [MP3] / [FLAC]
Stream "The Body Electric":

Hurray For The Riff Raff
2015-04-24
Bowery Ballroom
New York NY
Digital Master Recording
Soundboard + Audience Matrix
Soundboard + Schoeps CCM4u Cardioids > Sound Devices 744t > 2 x 24bit 48kHz wav files > Soundforge (post-production) > CDWave 1.95 (tracking) > TLH > flac (320 MP3 and tagging via Foobar)
Recorded and Produced by nyctaper
Setlist:
[Total Time 1:11:11]
01 The New SF Bay Blues
02 Blue Ridge Mountain
03 Instrumental
04 Look Out Mama
05 Slow Walk
06 I Know Its Wrong
07 Levon's Dream
08 The Body Electric
09 Crash On The Highway
10 Lake of Fire
11 End of the Line
12 [banter – openers]
13 People Talkin [Lucinda Williams]
14 Ode to John and Yoko
15 What's Wrong With Me
16 Living in the City
17 [encore break]
18 St Roch Blues
19 Little Black Star
If you Download this recording from nyctaper, we expect that you will PLEASE SUPPORT Hurray For The Riff Raff, visit their website, and purchase Small Town Heroes from the ATO Records website [HERE].