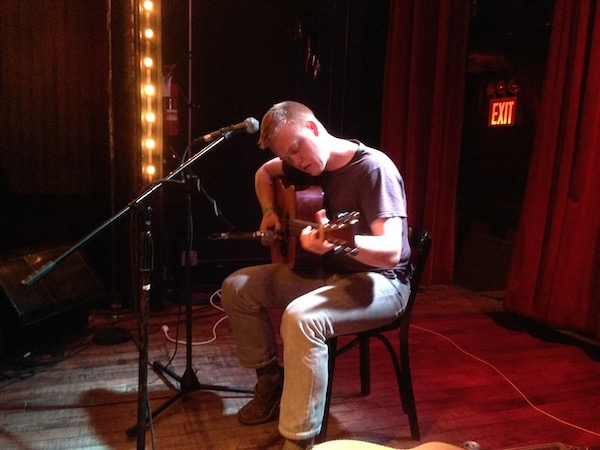 So far, 2015 has been a banner year for solo guitar records, with new releases from Daniel Bachman and Tashi Dorji plus the upcoming new Chuck Johnson record—just to name a few that I'm excited about. With the recently-released River, Daniel Bachman has somehow managed to out-do last year's incredible Orange Co. Serenade. It's no accident the North Carolina transplant has released those two records on a couple of the state's most prestigious labels—River on Three Lobed and Orange Co. Serenade on Bathetic. (And indeed no accident that Chuck Johnson's Crows in the Basilica came out on Three Lobed and Tashi Dorji's Appa came out on Bathetic, to further the connection to like-minded guitarists and labels.)
Bachman headlined an incredible bill of solo folk guitarists at Union Pool a few weeks back—the show, organized by Jeff Conklin/Avant Ghetto, also featured North Carolina songstress Sarah Louise, L.A.'s Itasca (Kayla Cohen), and Belgium's Ignatz (Bram Devens). Bachman's set treats us to songs off both River and Orange Co. Serenade, including two covers: "Levee" by Jack Rose and "Old Country Rock" by William Moore, giving us a good idea of who he sees as his forebears. Bachman may be young among the crowd of solo guitarists, but already can be counted among the genre's greats. I have no doubt we'll be seeing more great things from him.
I recorded this set with the AKGs clamped to the balcony and a board feed from Union Pool FOH, Kevin. There's a little bit of ambient noise from the crowd and bar here—including one very exuberant fan—but Bachman's guitar is loud and crystal clear. Enjoy!
Thanks to Jeff for organizing the event and inviting us down to record it. Avant Ghetto will presenting another show full of guitar worship at Union Pool on August 2 with PG Six, Chuck Johnson, Alan Licht, and Anthony Pasquarosa.
Download the complete show: [MP3] | [FLAC]
Stream the complete show:

Note: All of the material on this site is offered with artist permission, free to fans, at our expense. The only thing we ask is that you download the material directly from this site, rather than re-posting the direct links or the files on other sites without our permission. Please respect our request.
Daniel Bachman
2015-05-24
Union Pool
Brooklyn, NY
Exclusive download hosted at nyctaper.com
Recorded and produced by Eric PH
Soundboard (engineer: Kevin) + AKG C480B/CK63 (FOB, LOC, PAS) > Roland R-26 > 2xWAV (24/48) > Adobe Audition CC (align, balance, compression, mixdown) > Izotope Ozone 5 (EQ) > Audacity 2.0.5 (amplify, fades, downsample, dither, tracking, tagging) > FLAC (16/44.1, level 8)
Tracks [45:34]
01. Won't You Cross Over to That Other Shore
02. Levee [Jack Rose]
03. Sarah Anne
04. Orange Co. Serenade
05. Old Country Rock [William Moore]
06. Song For the Setting Sun II
07. Coming Home
Support Daniel Bachman: Website | Facebook | Buy River from Three Lobed | Buy Orange Co. Serenade from Bathetic