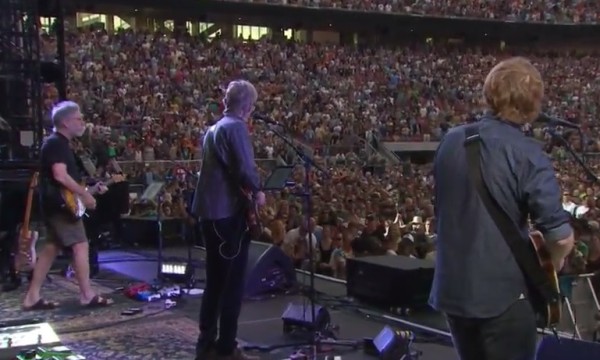 [screen cap from the live stream]
Tonight is the last official performance of the band formerly known as "The Grateful Dead". The entity known as "NYCTaper" would almost certainly not exist in its current incarnation were it not for the Grateful Dead and the tapers who captured the shows. These fans were essentially the courageous pioneers whose persistence, imagination and sacrifice created the very idea that a rock band could have "tapers". After years of back and forth, the band ultimately recognized the value of the tapers and created an official "taper's section" for them to do what they do. I spent quite a few nights in the late-era version of that section and it was an orderly community with its own set of particular rules and mores. In our own way here at NYCTaper, we try to apply a similar set of rules and use the code that made the tapers so successful and apply it to today's technology and the music world at large. Indeed, our friend Jesse Jarnow is writing a book about the early days of the Grateful Dead tapers and gave us a small sample of his work in an article published in Wired Magazine on Friday.
The community aspect of the tapers' creed is also a large reason why these recordings are coming to NYCTaper and doing so very quickly. Our friend Bill won the "lottery" and nabbed taper tickets to each of the Chicago shows and very generously volunteered to have his recordings posted here at NYCTaper. I've met Bill and I've known him in taper circles for a while, and acidjack has spent time with Bill down in New Orleans, but this joint venture is more about a camaraderie between relative strangers bonding over a taper ideal that began back in the old days of the Grateful Dead. In a way, its our tribute the band's last shows that we can come together to take the original idea and transform it to a 21st Century version of the old "taper's section".
The second of these three shows was a standard Saturday show — that is to say it was a show longer on songs and shorter on jams. A show not necessarily for the diehards, but more for the "weekend fan". Its been a phenomena for these weekend runs in Grateful Dead lore for years. The Friday show is a high-energy party, the Saturday is a song night, and the Sunday show is a night for obscurities and jams. We'll find out in a few hours if this final run follows the old trend. However, that's not necessarily an indictment of this show. It certainly had its moments — a surprising spry first-set "Friend of the Devil", the Jerry-tribute "Bird Song" to open the second set, and a wayback machine drive along "The Golden Road to Unlimited Devotion" (streaming below).
This set was recorded by Bill in the same manner as the July 3 show and the quality is equally excellent. Enjoy!
Download the Complete Show [MP3] / [FLAC]
Stream "The Golden Road":

Grateful Dead
2015-07-04
Soldier Field
Chicago IL
Digital Master Audience Recording
Recorded from Taper's Section
Busman BSC2 + AKG 480/CK61 + Sennheiser MKH-8040s > Tascam DR-680 > 24bit 48kHz wav file > Soundforge (level adjustments, mixdown, set fades) > CDWave 1.95 (tracking) > TLH > flac (320 MP3 and tagging via Foobar)
Recorded by Bill Walker
Produced by nyctaper
Setlist:
Set 1
[Total Time 1:22:19]
01 Shakedown Street
02 Liberty
03 Standing on the Moon
04 Me and My Uncle
05 Tennessee Jed
06 Cumberland Blues
07 Little Red Rooster
08 Friend of the Devil
09 Deal
Set 2
[Total Time 2:02:16]
10 Bird Song
11 The Golden Road
12 Lost Sailor
13 Saint of Circumstance
14 West LA Fadeaway
15 Foolish Heart
16 Drums-Space
17 Stella Blue
18 One More Saturday Night
19 [encore break]
20 US Blues
21 [Fireworks]
If you download this show from NYCTaper, please support the band and buy anything from the plethora of available music and merch at Dead.net.