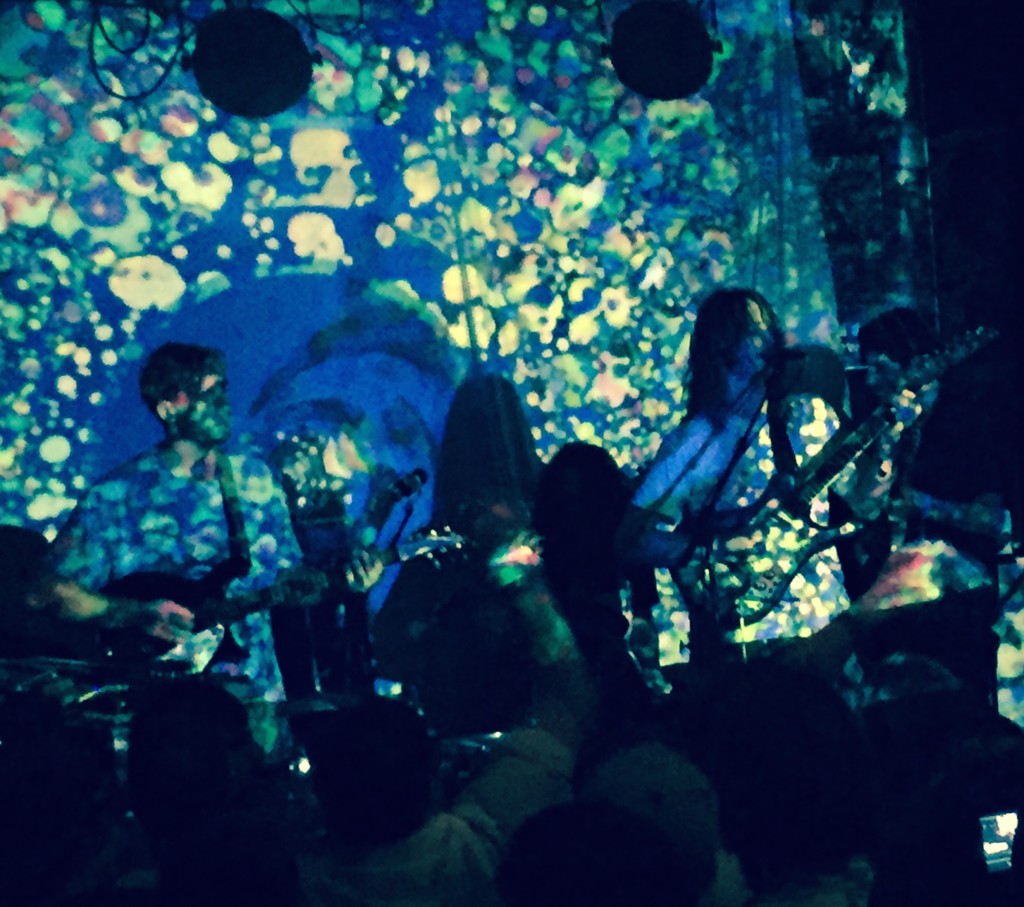 With the beer flowing, bodies flying, phone cameras silently snapping, and the floor jammed, King Gizzard & The Lizard Wizard showed everybody at the Pour House how to properly end a festival. The band pulled out all the stops for this set, cloaking themselves in liquid colors as they jammed through a bunch of their latest album, I'm In Your Mind Fuzz, as well as two new songs and one "very old" one — "Cut Throat Boogie," from their first album, which didn't make it far out of Australia. As had been the case most of the night at the Pour House, there was a line down the block, and the fans who actually made it inside were hungry to cut loose. The band seemed happy to oblige, cranking things up with the usual "I'm In Your Mind>I'm Not In Your Mind" sequence and not letting up for the full 70 minutes. The band has a new album, Paper Mache Dream Balloon, on the way next October from ATO Records, home to Alabama Shakes and others. Whether any of the new material we've been seeing on tour (such as at June's Bowery and Baby's All Right shows) will make it (the track list on the front cover might suggest no, if it's real) is anyone's guess, but it's clear that this band remains on the path upward. This was another perfect, blurry end to a Hopscotch Music Festival to remember.
I recorded this set with a soundboard feed from King Gizzard's engineer plus the veteran Pour House engineer Jack, together with Schoeps MK41V microphones. The capture is loud and clear, a perfect reflection of the night. Enjoy!
Download the complete set: [MP3] | [FLAC]
Stream the complete set: 

King Gizzard & the Lizard Wizard
2015-09-12
Hopscotch Music Festival
Pour House
Raleigh, NC USA
Exclusive download hosted at nyctaper.com
Recorded and produced by acidjack
Tracked by nyctaper
Schoeps MK41V (LOC, PAS)>KCY>Z-PFA + Soundboard (engineer: Jack)>>Roland R-26>2x24bit/48kHz WAV>Adobe Audition CS 5.5 (align, mix down, compression)>Izotope Ozone 5 (effects, EQ, imaging)>Audacity 2.0.5 (track, amplify, balance, downsample, dither)>FLAC ( level 8 )
Tracks [Total Time 1:11:01]
01 I'm In Your Mind
02 I'm Not In Your Mind
03 Cellophane
04 I'm In Your Mind Fuzz
05 Hot Wax
06 Gamma Knife
07 The River
08 Robot Stop
09 Its Got Old
10 Cut Throat Boogie
11 [banter]
12 Sleepwalker
13 Am I In Heaven>Pill
If you download this recording from NYCTaper PLEASE SUPPORT King Gizzard and the Lizard Wizard, visit their website, and purchase I'm In Your Mind Fuzz from the Heavenly Records website [HERE] or in the US through Castle Face Records , buy it [HERE]. You can preorder their new record from ATO Records here.