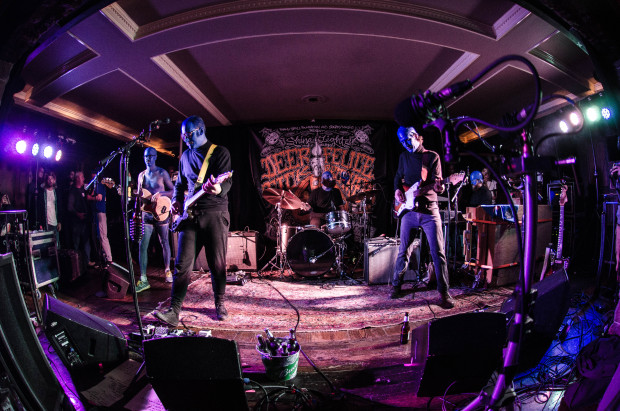 [photos by Kurt Christensen]
One of the more inspiring aspects of the Tommy Brull Foundation is that the organization is very much about celebrating a life by helping others. I have been fortunate to get the know the guys over the last five years of attending these shows, and although the sadness of the loss of Tommy still exists sixteen years since his death, the best tribute that his family and friends can do for him is to continue to celebrate his love of music and his sense of community. For this most recent night of music, the Foundation brought back for the third time a band that seems to fit this vision perfectly. Deer Tick played the first ever "Shine A Light" music event in 2011, and returned a couple of years later. The connection seems real — Deer Tick are also genuinely righteous guys who also undoubtedly love to have a good time. So the fact that this year's event fell on Halloween Eve kicked up the "good time" element of the event a bit more. Deer Tick came dressed as Blue Man Group and played a raucous set that also included two thematically appropriate covers — Warren Zevon's "I'll Sleep When I'm Dead" and Steve Miller's "Abracadabra". The balance of the setlist included a virtual career retrospective and even a brand new song, but it was the positive atmosphere, the band's recognition of the importance of the event and the spirit of community that made this night so compelling. As a celebration of Tommy's life, it couldn't really have been any better.
I recorded this set with the Sennheiser cards mounted at the front of the stage and mixed it with a soundboard feed. There are points where the vocals in the PA drop out, so you'll hear a lower vocal volume that comes from the on-stage monitors, but when everything's on board, the sound is excellent. Enjoy!
Please donate to the Brull Foundation if you download this recording. The Foundation provides funding and spearheads worthy projects for disabled children on Long Island, particularly Camp Anchor where Tommy worked.
Download the Complete Show [MP3] / [FLAC]
Stream the Complete Show [banter tracks removed]:

Note: All of the material on this site is offered with artist permission, free to fans, at our expense. The only thing we respectfully ask is that you download the material directly from this site, rather than re-posting the direct links or the files on other sites without our permission. Please respect our request. Please feel free to re-post the Soundcloud links.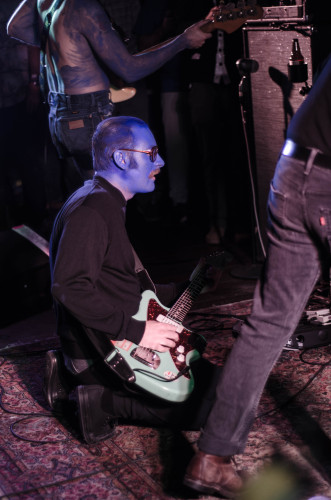 Deer Tick
2015-10-30
Tommy Brull Benefit
Cannons Blackthorn
Rockville Centre NY
Digital Master Recording
Soundboard + On Stage Audience Matrix
Soundboard + Sennheiser MKH-8040s Cardioids > Sound Devices 744t > 2 x 24bit 48kHz wavs > Soundforge (mixing) > CDWave 1.95 (tracking) > TLH > flac (320 MP3/tagging via Foobar)
Recorded and Produced by nyctaper
Setlist:
[Total Time 1:42:51]
01 The Rock
02 The Dream's in the Ditch
03 Baltimore Blues No 1
04 Houston TX
05 Twenty Miles
06 Thyme
07 Pot of Gold
08 Standing at the Threshold
09 Cocktail
10 Dirty Dishes
11 The Bump
12 Easy
13 Main Street
14 [tech problem jams]
15 Look How Clean I Am
16 Miss K
17 Trash
18 I'll Sleep When I'm Dead [Warren Zevon]
19 [pee break]
20 Clownin Around
21 These Old Shoes
22 Let's All Go to the Bar
23 [encore break]
24 Ashamed
25 Abracadabra [Steve Miller]
26 Mange
If you download this from NYCTaper, PLEASE SUPPORT Deer Tick, visit their website, and buy their records from their online store.