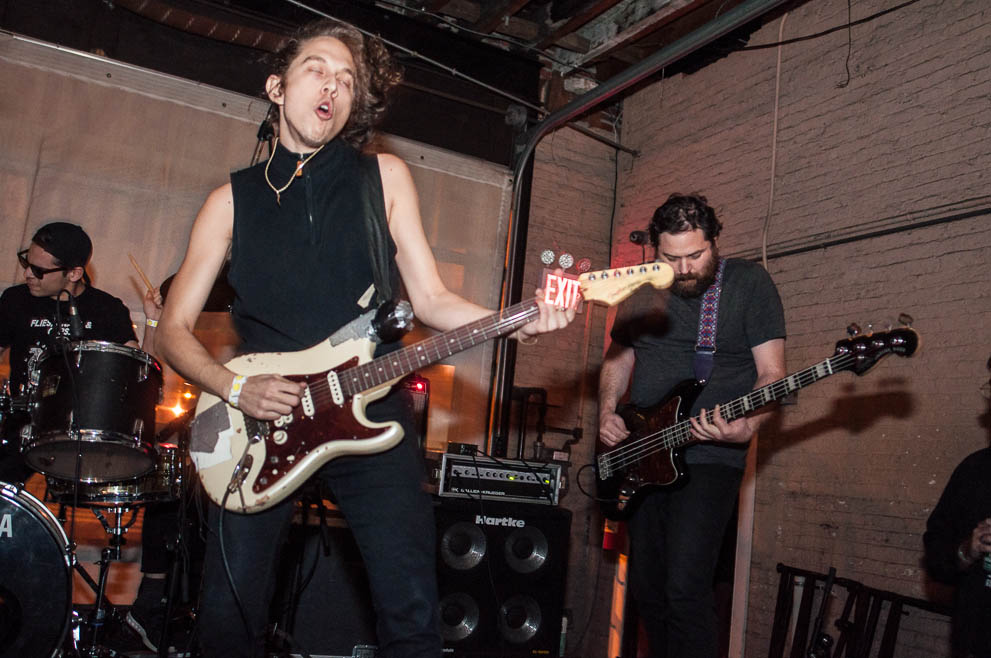 [photos courtesy of Edwina Hay for Impose Magazine]
I'm pretty sure I can say that Destruction Unit has the best band name of anyone I saw this year. It's not only catchy in its own right, but describes perfectly the maelstrom of noise that this postmodern Arizona punk band will rain down on you until you either risk your skull in the mosh pit or haul your ass to the exits. Destruction Unit is the kind of experience that's polarizing, intimidating, and absolutely perfect to close out a show like Ad Hoc's epic post-CMJ show in a Williamsburg car wash. By the time the band took the stage to close out the evening, the humble PA system was positively shredded, the house team fighting to keep the sound going. The band took things well past the limit, with a long lead-in to the pummeling track "Destruct." This set stuck entirely to the band's latest record, Negative Feedback Resistor, their second for Sacred Bones Records, though many of the songs found themselves extended for a few measures. The band was rightly hailed by Newsweek as the best band they saw at CMJ, and it's hard to argue with that after seeing their live show. Even with the vocals buried under the beating being taken by the PA (you can hear them much better on this recording than you could in the room), it didn't matter to the crowd, which erupted into a mosh pit early and didn't let up for the entire, pummeling 35 minutes of this set. If you're going to make a trip out east to slog your way through a bunch of CMJ shows, you ought to make it count. No question that Destruction Unit did that and more.
I recorded this set in the same manner as the day's other recordings, with AT 4051 microphones and a soundboard feed. The sound quality is reflective of the setting and the style, and represents it quite well. Enjoy!
Download the complete set: [MP3/FLAC]
Stream the complete set:

Destruction Unit
2015-10-17
Ad Hoc Car Wash
Hand & Detail Car Wash Center
Brooklyn, NY USA
Exclusive download hosted at nyctaper.com
Recorded and produced by acidjack
Audio Technica 4051 (LOC, FOB, PAS) + Soundboard>Roland R-26>2x24bit/48kHz WAV>Adobe Audition CS 5.5 (align, mix down, edit SBD, compression)>Izotope Ozone 5 (EQ, effects, image)>Audacity 2.0.5 (track, amplify, balance, downsample, dither)>FLAC ( level 8 )
Tracks
01 Disinfect
02 Salvation
03 Chemical Reaction/Chemical Delight
04 If Death Ever Slept
05 The Upper Hand
If you enjoyed this recording, PLEASE SUPPORT Destruction Unit, like them on facebook, and buy their records from Sacred Bones Records.