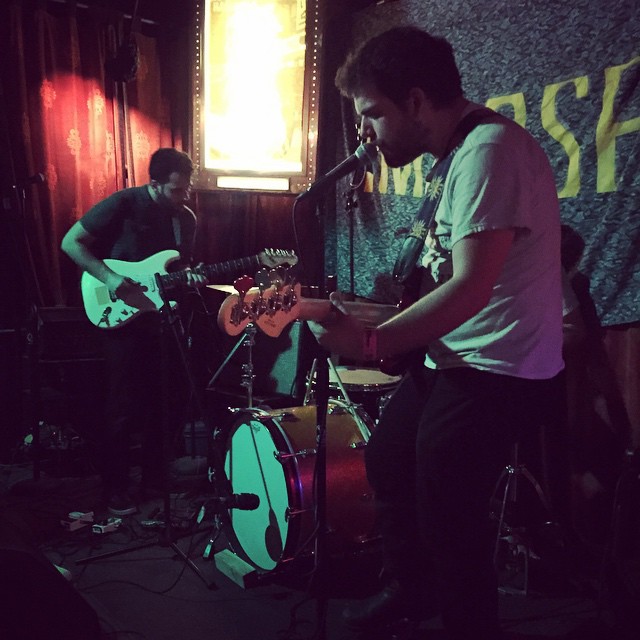 [photo courtesy of We Are Going Solo]
It was in mid-September that Boston's Krill announced that they were going to disband and that their final shows would take place in October. On October 23, the band played their last show at Silent Barn. It was an odd time for the band's departure as their latest album A Distant Fist Unclenching (Exploding in Sound Records) was just released in February and was a breakthrough of sorts. After they publicly struggled with the difficulties of life as a band on the road, Fist is an album where Krill seemed to reconcile life's challenges and the band's own insecurities with ultimately a fairly optimistic outlook. But the band did have a productive and entertaining five-year run and we offer this never-before-released recording we captured at the Impose Magazine show last March at SXSW as a tribute and farewell to Krill. This set consists of their 7″ tribute to fellow Bostonians Pile, and then runs through four Fist Unclenching songs in a set that pretty much encapsulates what Krill was all about — quirky songs, playful banter, and a good time. They will be missed.
I recorded this set with the Sennheiser cards mounted at the soundboard booth and mixed with a board feed. This is the same rig at the Pile set from this show and the sound is similar, but I believe that this Krill recording has better balance. Enjoy!
Download the Complete Show [MP3] / [FLAC]
Stream the Complete Show:

Krill
2015-03-19
Long Branch Inn – Impose SXSW
Austin, TX USA
Digital Master Recording
Soundboard + Audience Matrix
Soundboard + Sennheiser MKH-8040 Cardioids > Sound Devices 744t > 2 x 24bit 48kHz wav files > Soundforge (post production) > CDWave 1.95 (tracking) > TLH > flac (320 MP3 and tagging via Foobar)
Recorded and Produced
by nyctaper
Setlist:
[Total Time 24:41]
01 Steve Hears Pile in Malden and Bursts into Tears
02 Torturer
03 Foot
04 [banter – thanks]
05 Brain Problem
06 Tiger
If you download this recording from NYCTaper, PLEASE SUPPORT Krill, visit their page at EIS, and purchase A Distant Fist Unclenching from the band's Bandcamp page [HERE].