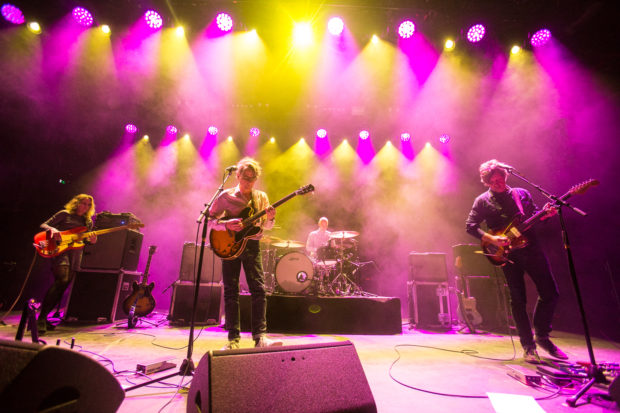 [photos by Will from We All Want Someone blog]
At some point in the last three years, Luna transitioned from a "reunion" to an actively recording and touring band. This year saw two new Luna releases, a full album of eclectic covers (A Sentimental Education) and an all-instrumental EP (A Place Of Greater Safety). For A Sentimental Education, the band placed their own unique stamp on an interesting selection of covers. It was the first new Luna album in 13 years and it hit all the right buttons — 70s and 80s influences and one 90s contemporary. The selection of songs are for the connoisseur, no obvious tracks to be found.
The final night of Luna's most recent tour reached Brooklyn Steel two Saturdays ago. This was the largest venue the band had played in NYC maybe ever, and a healthy crowd showed up in support. The band began the night with opening track from Greater Safety and proceeded to treat the fans to a nice selection of classic material mixed with the new versions of memorable tracks from Sentimental. Indeed the set ended with an inspired performance of Mercury Rev's "Car Wash Hair" followed by a series of encores. On this night, the rarity was an infrequent appearance of the Galaxie 500 classic "Tugboat".
I recorded this set with the Neumann hypercards mounted at the soundboard and mixed with a superb feed mixed by the band's outstanding FOH Paul. The blend of the two sources produced perhaps the best of our many recordings of Luna to appear on this site. Enjoy!
Download the Complete Show [MP3] / [FLAC]
Stream the Complete Show:

Luna
2017-11-18
Brooklyn Steel
Brooklyn NY
Digital Master Recording
Soundboard + Audience Matrix
Soundboard [Engineer: Paul] + Neumann KM-150s > Sound Devices 744t > 2 x 24bit 48kHz wav files > Soundforge (post-production) > CDWave 1.95 (tracking) > TLH > flac (320 MP3 and tagging via Foobar)
Recorded and Produced by nyctaper
Setlist:
[Total Time 1:31:50]
01 GTX3
02 Gin [Willy Loco Alexander]
03 Sideshow by the Seashore
04 Bobby Peru
05 Fire in Cairo [Cure]
06 Malibu Love Nest
07 Tracy I Love You
08 Still at Home
09 Freakin and Peakin
10 One Fine Summer Morning [Evie Sands]
11 Chinatown
12 Friendly Advice
13 I Want Everything
14 Car Wash Hair [Mercury Rev]
15 [encore break]
16 Tugboat
17 23 Minutes in Brussels
18 [second encore break]
19 Moon Palace
SUPPORT Luna:  Website | Bandcamp | Buy A Sentimental Education