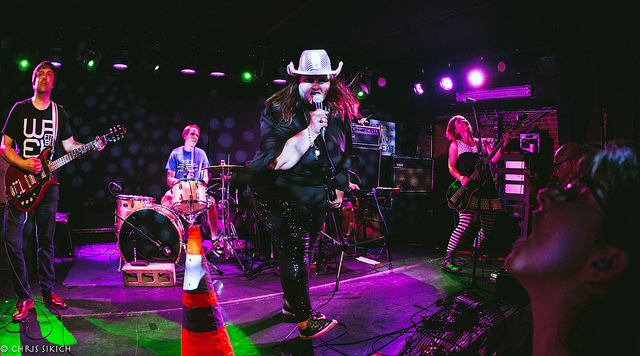 [photos by Chris Sikich]
Pylon's influence on their contemporaries is indisputable. Indeed, over the years REM has consistently cited Pylon for their positive impact on the 1980s Athens scene. What's become more clear in the intervening years is that Pylon's influence is more vast than their local time and place — their revolutionary sound can be heard in new bands even today. Pylon was enjoying a bit of a renaissance in their third reunion period of 2007-2008 when tragically guitarist Randy Bewley suffered a heart attack and passed away at the age of 53. At that point, the band was formally retired and it seemed as if Pylon's music would only live on in recordings.
After a few one-off local performances, in 2014 lead singer Vanessa Briscoe Hay re-formed the band under the moniker Pylon Reenactment Society. With the blessing of her two former bandmates Michael Lachowski and Curtis Crowe, Vanessa compiled a group of performers from the Athens scene who were both intimately familiar with the music and personally known to the band. Guitarist Jason NeSmith and bassist Kay Stanton were not only members of Athens mainstays Casper & the Cookies, but were also bandmates with Vanessa in Supercluster. Drummer Joe Rowe was a founding member of Athens greats the Glands, who suffered their own deep loss with the 2016 death of leader Ross Shapiro. Vanessa also added a new touch with this new configuration, as her friend and University of Georgia music professor Damon Denton fortifies the sound of PRS with skillful keyboards. So with friendship, familiarity, and a common ethos, its easily understandable that Pylon Reenactment Society has generated universally positive reviews as both an tribute and a celebration of Pylon, and a contemporary band with its own story to write.
Pylon Reenactment Society doesn't come North very often, but we were fortunate to catch this month's appearance at Mercury Lounge, a venue where I captured the original band in 2007. With a full crowd there to party, PRS brought the goods — an animated set of old Pylon classics and two new numbers all performed with the precision the songs require but this a new touch from a different skilled set of performers, all fronted by the inimitable Vanessa Briscoe Hay. The set began with "Driving School" and "Volume" from the first Pylon record, 1980's Gyrate. Indeed, the show would include almost all of the first album and the entirety of Side A of the band's second album Chomp. The set even included uber-rare b-side "Altitude", a song with which we were unfamiliar until the fantastic release in 2016 of Pylon Live (Chunklet). With a twenty-song, ninety-minute set, Pylon Reenactment Society gave the crowd of old and newer fans all that could have been asked for — a chance to relive the old classic material in a new configuration with plenty of heart. We hope they'll be back North again soon.
I recorded this set with the Schoeps cards set up next to the soundboard and mixed with an excellent feed and the sound quality is superb. Enjoy!
Download the Complete Show [MP3] / [FLAC]
Stream the Complete Show:

Pylon Reenactment Society
2018-07-01
Mercury Lounge
New York NY
Digital Master Recording
Soundboard + Audience Matrix
Soundboard + Schoeps CCM4u Cardioids > Sound Devices 744t > 2 x 24bit 48kHz wav files >
Soundforge (post-production) > CDWave 1.95 (tracking) > TLH > flac (320 MP3 and tagging via Foobar)
Recorded and Produced by nyctaper
Setlist:
[Total Time 1:28:45]
01 Driving School
02 Volume
03 Look Alive
04 Cool
05 Messenger [new song]
06 Precaution
07 K
08 Italian Movie Theme
09 Human Body
10 [band introductions]
11 Working Is No Problem
12 Danger
13 Altitude
14 Buzz
15 Crazy
16 Try To Do That [new song]
17 Feast On My Heart
18 Beep
19 [encore break]
20 M Train
21 Dub
22 [banter – thanks]
23 Stop It
PLEASE SUPPORT Pylon Reenactment Society: Website | Bandcamp | Buy Pylon Live