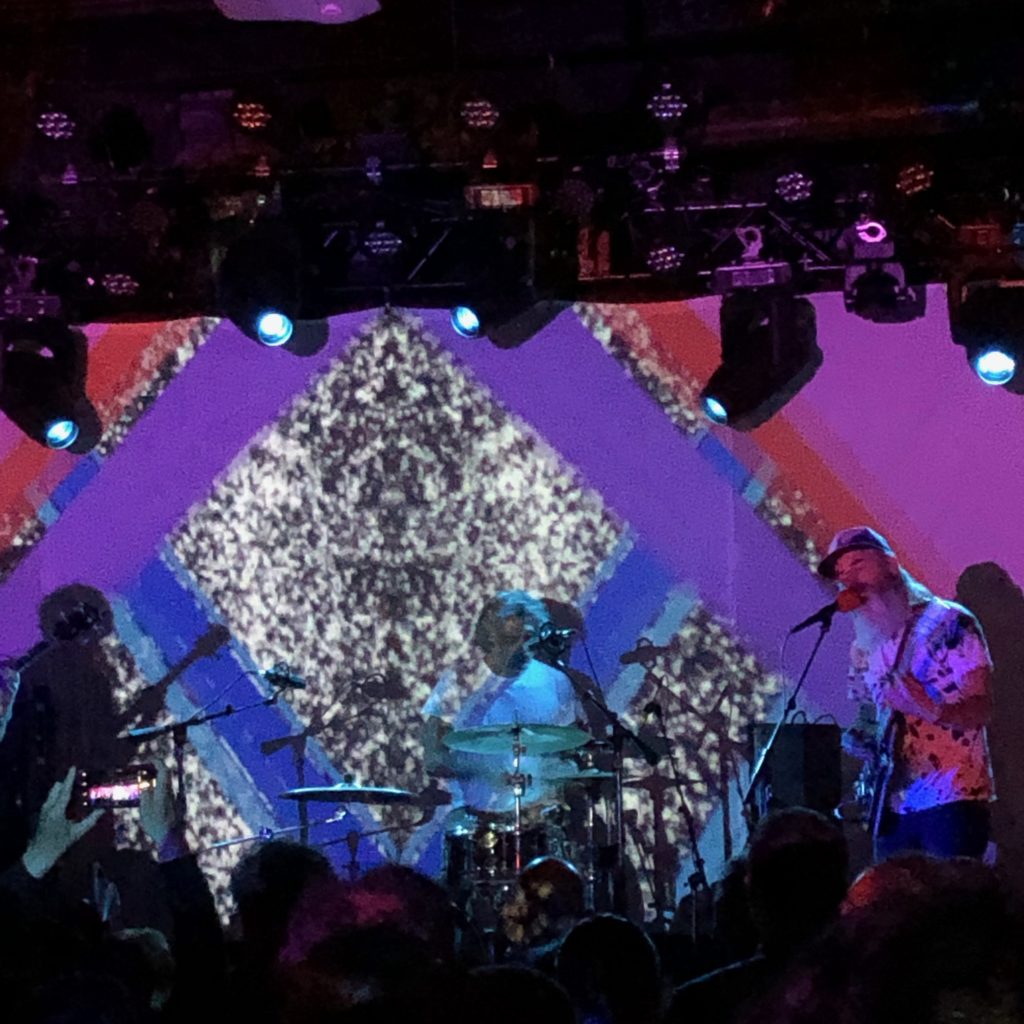 We here at nyctaper are fans of all things Ripley Johnson. Of late, that's meant attending the shows of his excellent project Moon Duo, who've graced us here in NYC several times in the past few years. But as for his larger vehicle Wooden Shjips, it's been since 2012 that we've caught a live show by the band.
I'm happy to say that drought has now ended, with a show worthy of the wait. Ripley and his bandmates rolled into Brooklyn Bowl with purpose and a light show that almost made you forget you were in a bowling alley. This set spanned the band's entire career, including their most accessible album to date, V. Two of that album's strongest songs, "Ride On" and "Staring at the Sun," provided a mellow tempo downshift in the middle of a set that was largely a burner, including the very-early album track "Death's Not Your Friend" into a Ripley-fied version of the VU's "What Goes On" to close out the main set. Not to be ignored, too, is the band's cover of New Zealand psych lords Snapper's "Buddy," which we'd last seen them play in 2011.
Ripley has another important piece of news today: It's the release date of his latest project, Rose City Band, the name a nod to his current hometown of Portland. Hopefully we'll be seeing them around these parts before too long — and it'll be a shorter distance between our next cruise with the Shjips.
I recorded this set with MBHO microphones up front in the venue. The sound quality is excellent. Hope you dig it!
Download the complete set: [FLAC/Apple Lossless/MP3]
Wooden Shjips
2019-05-22
Brooklyn Bowl
Brooklyn, NY USA
Recorded and produced by acidjack for nyctaper.com
MBHO KA200N>MBP603a (FOB, ROC)>Sound Devices MixPre 6>24/48 WAV>Adobe Audition CC>Izotope Ozone 5>Audacity 2.2.2>FLAC ( level 8 )
Tracks [Total Time: 1:14:44]
01 Eclipse
02 In the Fall
03 For So Long
04 Other Stars
05 Ride On
06 Staring at the Sun
07 Motorbike
08 Ghouls
09 Lazy Bones
10 Death's Not Your Friend>What Goes On
11 These Shadows
12 Buddy [Snapper]
PLEASE SUPPORT Wooden Shjips: Buy their records from Thrill Jockey | Website