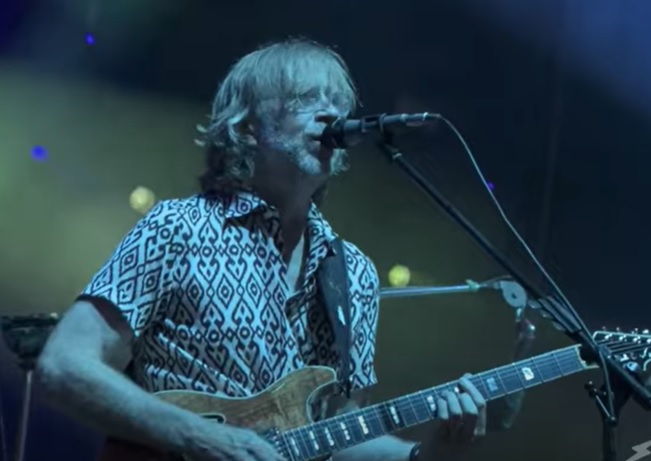 The bright sunlight of a crystal clear Saturday morning reflected off the Atlantic Ocean and offered some hope of redemption from the negative energy of Friday night's gaseous debauchery. Overnight, the unfortunate souls tasked with cleaning the boardwalk had removed nearly all evidence of the previous evening's wreckage and with the arrival of weekend vacationers, Atlantic City seemed to breath fresh again.
We had the pleasure of spending a little time in the Phan Art exhibition on Saturday afternoon and those gentle vibes reinvigorated me and gave us a sense that maybe the positive elements of the scene could rise above the darkness that still lurked in the shadows. The threats of rain having dissipated, we entered the beach with a sense that this night could be special.
Perhaps Phish got wind of the negative energy, as they closed the first set with the dark cautionary tale "Squirming Coil", advising all to steer clear of "Satan on the beach". The balance of the first set was an up and down affair, as the trainwreck opening of "Ya Mar" was offset by a near-perfect run through of the intricate "Reba" jam.
But it was the meat of the second set where this show really began to shine. Phish covered the entire Quadrophenia album for Halloween 1995, and fortunately the epic "Drowned" has remained in occasional rotation, making a couple of appearances a year. The jam out of Drowned went into the familiar Jersey territory, as Trey clearly teased Springsteen's "Dancing In The Dark" before transitioning to a nice spooky "Ghost". Further buoyed by the opportunity to stretch out and explore, Trey seemed to be heading into a reprise of Drowned, which somehow then weirdly morphed into the middle portion of Scents and Subtle Sounds, which sadly petered out after about five minutes. The band refocused and launched into a gnarly Chalkdust that went into deep space before emerging through a fog of noise towards the gentle keyboard opening of Zeppelin's "No Quarter". At this point, the weekend had achieved musically exactly what I had hoped to see — a band playing at the peak of their powers and delivering transcendent moments in a troubling time of confusion and despair. We live for these peaks, and when Phish reprised Friday night's "Tweezer" as the second encore to bookend my own person weekend experience, it was quite emotional. No nefarious post-show Boardwalk shenanigans could bring me down on this night, as we floated home through the magical mist of a sweet Summer night.
I recorded this show in the exact same manner as the previous night, with the mic stand only a few feet away from the Friday location. The Neumann hypers again delivered their magic and cut through the elements to deliver a sharp and bright recording. We're extremely pleased again with this recording and hope you are too. Enjoy!
Download the Complete Show [MP3] / [FLAC]
Stream "Chalkdust Torture > No Quarter":
Phish
2021-08-14
The Beach
Atlantic City NJ
Digital Master Recording
Tapers Section at Soundboard
Neumann KM-150 Hypers > Sound Devices 744t > 24bit 48kHz wav > Soundforge (post production) > CDWave 1.95 (tracking) > TLH > flac (320 MP3 and tagging via Foobar)
Recorded and Produced by nyctaper
Setlist:
Set 1 [Total Time 1:20:54]
01 Llama
02 Tube
03 Destiny Unbound
04 Ya Mar
05 46 Days
06 Reba
07 Soul Shakedown Party
08 Split Open and Melt
09 The Squirming Coil
Set 2 [Total Time 1:24:54]
10 I Never Needed You Like This Before
11 Drowned
12 Ghost
13 Scents and Subtle Sounds
14 Chalk Dust Torture
15 No Quarter
16 Slave to the Traffic Light
17 Suzy Greenberg
18 [encore break]
19 A Life Beyond The Dream
20 Tweezer Reprise