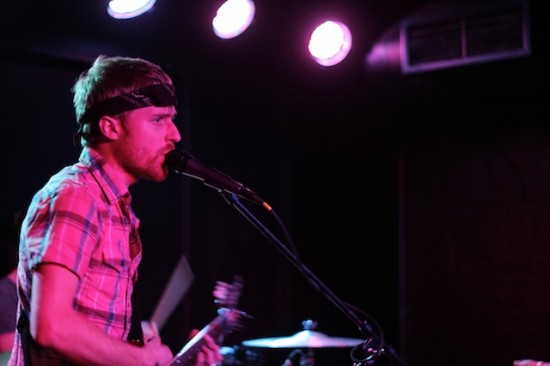 [Photo courtesy of The Wild Honey Pie]
Things seem to be going well for Philly's Jukebox the Ghost – not long after they booked this show at the intimate Rock Shop as the support act for tourmates Wakey Wakey!, they found themselves at the top of the bill at Bowery Ballroom the following night. It isn't terribly surprising: Since their founding in their present incarnation in 2005, the band has toured extensively behind big name, accessible pop-rock acts like Ben Folds and Barenaked Ladies and released two strong albums, their 2008 debut, Let Live and Let Ghosts, and its 2010 followup, Everything Under the Sun, and in that time, they have made a name for themselves as a bouncy, fun and consistent pop act.  Much like Ben Folds Five, their music revolves around classically-trained keyboardist/vocalist Ben Thornewill's upbeat piano melodies and the sugar-sweet vocal harmony of lead vocalists Tommy Siegel and Thornewill.  Songs like "Empire" are reminders of the power of a perfect pop song; JTG are neither angst-ridden nor ironic, nor even particularly earnest – their pop is served without pretension or anxiety. I heard several people in the crowd, who didn't know the band at all, talking about how much they enjoyed the show – and how could you not? Jukebox the Ghost are pros, ladies and gentlemen, and they have the power to deliver a nice injection of optimism into a jaded city crowd. All that said, it's hard to deny the highlight of the show – an only-somewhat-ironic cover, a mean version of Huey Lewis & the News' "Power of Love", the theme song from Back to the Future (with a little jam of the theme from Ghostbusters in there – it was an 80s kind of night, I guess).
I recorded this set in the same manner as the Wakey Wakey! recording, and the sound quality is once again outstanding. Enjoy!
Stream "Empire":
[audio:http://www.nyctaper.com/J4005JukeboxGhost2011/06 Empire.mp3]
Stream "The Power of Love [Huey Lewis and the News]":
[audio:http://www.nyctaper.com/J4005JukeboxGhost2011/15 The Power of Love.mp3]
This Recording is now available for Download in FLAC and MP3 and to Stream at Archive.org [HERE].
Follow acidjack on Twitter
Jukebox the Ghost
2011-05-04
Rock Shop
Brooklyn, NY USA
An acidjack master recording
Recorded and produced by acidjack for nyctaper.com
Equipment: DPA 4021>Sound Devices USBpre2+Soundboard>>Edirol R-44 [Oade Concert Mod] (24/44.1)
Position: LOC, mics at 7.5ft, pointed at stacks
Mastering: 2x24bit/44.1kHz WAV>Audacity (balance, EQ right channel, mixdown, set fades, tracking, amplify and balance)>FLAC ( level 8 )
01 Mistletoe
02 Half Crazy
03 Hold It In
04 [banter]
05 The Stars
06 Empire
07 Summer Sun
08 [banter]
09 Don't Let Me Fall Behind [new]
10 Nobody
11 Say When
12 Good Day
13 Static to the Heart
14 [banter]
15 The Power of Love [Huey Lewis & the News]
16 Schizophrenia
If you download this recording from NYCTaper, we expect that you will PLEASE SUPPORT Jukebox the Ghost, visit their website, and purchase Everything Under the Sun and their other official releases from the Yep Roc Records store [HERE]