[Photos by acidjack]
After catching them back in January on the cusp of the release of their latest record, When I Fall Out, back in January, I relished the chance to catch The Phantom Family Halo after a few more months of touring on the record. Opening for the legendary Japanese psych-rock band Acid Mothers Temple (that recording [HERE]), the band took the Knitting Factory stage with a poise and confidence equal to that veteran band. The combination of a cool light show and a clean house mix gave a fervent power and energy to the most-new material on offer. "Vital Energy" was not only the name of one of the best songs of the night; it was an accurate descriptor for the band's entire performance that night. As I did back in January, I continued to marvel at how the band could switch gears between a more psychedelic, exploratory style and a harder, punkish bite, even within the same song. Much of the credit for that goes to frontman Dominic Cipolla, whose vocals are angrier and more aggressive, and kept higher in the mix, than those of many of the band's genre contemporaries, giving them a harder edge. This show was a step forward all around from the January show, and makes for the ideal introduction to this band. The only thing better would be seeing them for yourself.
I recorded this set in the same manner as the Acid Mothers Temple recording, with AKG large diaphragm microphones. I preferred the house mix and the mics' performance on this set over the AMT set, and think that this was the best recording of the night.  Enjoy!
Stream "Vital Energy"
Audio clip: Adobe Flash Player (version 9 or above) is required to play this audio clip. Download the latest version here. You also need to have JavaScript enabled in your browser.
Stream "Broken By the Way"
Audio clip: Adobe Flash Player (version 9 or above) is required to play this audio clip. Download the latest version here. You also need to have JavaScript enabled in your browser.
Direct download of MP3 files [HERE] | Direct Download of the FLAC files [HERE]
Follow acidjack on twitter
Note: All of the material on this site is offered with artist permission, free to fans, at our expense. The only thing we ask is that you download the material directly from this site, rather than re-posting the direct links or the files on other sites without our permission. Please respect our request.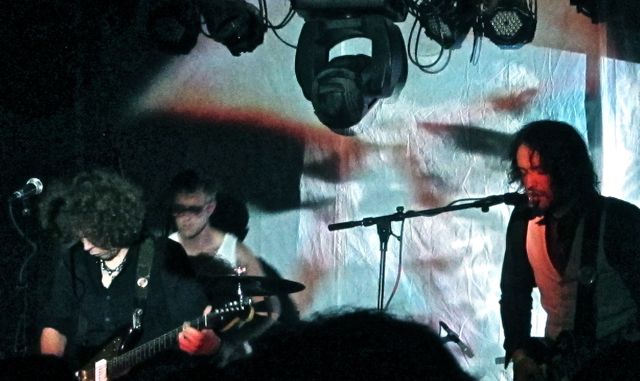 The Phantom Family Halo
2012-04-30
Knitting Factory
Brooklyn, NY USA
Exclusive download hosted at NYCTaper.com
Recorded and produced by acidjack
AKG C 414 B-XLS (cardiod, slightly ROC, at SBD, 7.5ft, POS)>Aerco MP-2 + Soundboard >> Edirol R-44 [Oade Concert Mod]>2x24bit/48kHz WAV>Adobe Audition CS 5.5 (mixdown)>Izotope Ozone 5 (EQ)>Audacity (set fades, tracking, additional EQ, amplify and balance)>FLAC ( level 8 )
Tracks
01 [intro music]
02 Sun Behind the Sun
03 Vital Energy
04 Light Year Girl
05 White Hot Gun
06 [tuning]
07 Dirty Blade
08 Masters of the Universe
09 Broken By the Way
If you enjoyed this recording, PLEASE SUPPORT The Phantom Family Halo, like them on Facebook, and order When I Fall Out and their other official releases from Knitting Factory Records [HERE]