[Photos by acidjack]
The young band The Invisible Hand hails from Charlottesville, VA, and with a lead singer named Adam Smith, yes, their name is an econ reference. But other than that, and one song called "Black Tie Formal", there's little in the way of college references here, and the band's sound has more to do with power pop and protopunk than the kinds of jams Charlottesville is normally associated with (I'm looking at you, Dave Matthews). The set opener, "Psychic Cat" was a caffeine jolt to the daytime crowd at this Hopscotch Music Festival day show, and that energy sustained throughout this set that covered much of the band's forthcoming 12″ EP on Funny/Not Funny Records as well as their self-titled LP on that same label. Smith's style of performance recalls heyday-era Billie Joe of Green Day, and the band's high-energy, no-bullshit set made me long for more bands like them. Playing a day show – especially when you've just shown up at the venue – can be a challenge, but Invisible Hand showed us they are ready anytime.
I recorded this set with local taper bryonsos' AKG 460 microphones hung from an optimal spot on the venue ceiling, combined with a soundboard feed customized by the King's staff.  The sound quality is excellent. Enjoy!
Stream "Eating Out"

Direct download of MP3 files [HERE] | Direct download of FLAC files [HERE]
If the FLAC link is no longer working, email nyctaper for the FLAC files
Check out all of NYCTaper's Hopscotch Festival recordings
Follow acidjack on twitter
Note: All of the material on this site is offered with artist permission, free to fans, at our expense. The only thing we ask is that you download the material directly from this site, rather than re-posting the direct links or the files on other sites without our permission. Please respect our request.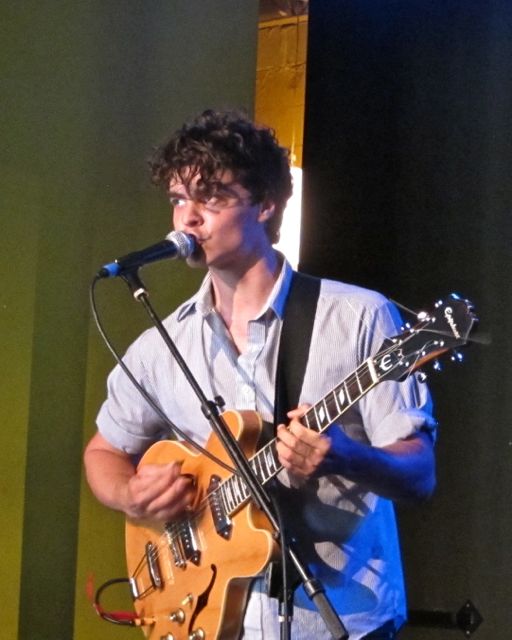 The Invisible Hand
2012-09-06
Hopscotch Festival Day Show
King's
Raleigh, NC USA
Recorded and produced by acidjack
Microphones courtesy of bryonsos
Soundboard + AKG 460/ck61>Edirol R-44 [OCM]>>2x24bit/48kHz WAV>Adobe Audition CS 5.5 (adjust levels, mix down)>Izotope Ozone 5 (EQ, tube effect)>Audacity 3.0 (set fades, tracking, amplify, balance)>FLAC ( level 8 )
Tracks
01 Psychic Cat
02 Death Bellows
03 New Top
04 Lies, lies, lies.
05 Eating Out
06 Home at Last
07 Call me Ishmael
08 Kraut 1
09 Kraut 2
If you enjoyed this recording, PLEASE SUPPORT The Invisible Hand, like them on Facebook, and buy their releases from Funny/Not Funny Records (including their new EP, available now for preorder) [HERE]