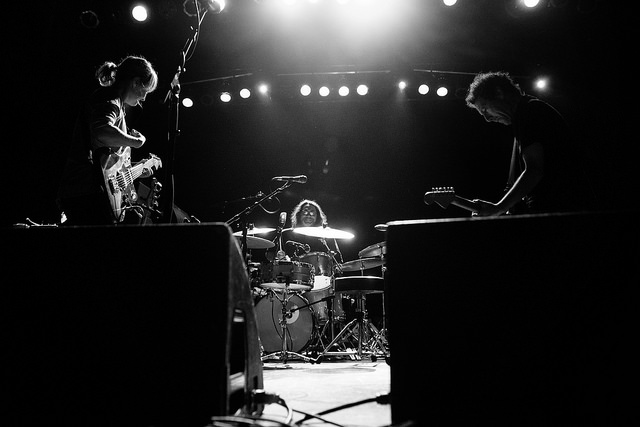 [photos by Max Sall]
This show represents the only time this year that I saw Yo La Tengo live. You have to go back nearly a decade to find a calendar year when I saw the band only once. The band went out on a little mini-tour in celebration of their official 30th anniversary as a band and also in support of a new release called Extra Painful — a reissue of their classic 1993 album Painful packed with a bunch of bonus material. So since the two Town Hall shows were not conducive to recording, I made a roadtrip in the pouring rain to Philadelphia and back. The Trocadero is a converted old theatre right in the heart of Philly's Chinatown District and its just a few blocks from the Franklin Bridge — an easy in and out of the City. Although the Troc has two balconies and an official capacity of 1200, it definitely has an intimate vibe perhaps since the actual floor is fairly small. But intimate or not, we're used to seeing Yo La Tengo amongst "friends" at some fairly small-ish places, so there was a definite "road" feel to this show. As YLT shows go, this one had pretty much everything you could ask for including some rare nuggets ("Empty Pool", "Demons"), special guests (Tara Key early, and full Antietam later), plenty of noisy stuff, and an absolutely ear-crushing "Story". We are streaming a standout version of "Drug Test" that began with a (separately tracked) false start but like in so many of those situations with a "start over", the band totally nailed it on the re-do. Yo La Tengo currently has no scheduled dates, but we're hoping that we get more than one chance to see them live in 2015.
I recorded this set with the Schoeps mounted in the front of the soundboard booth and mixed with a superb feed provide by the band's longtime and legendary FOH Mark Luecke. As with most YLT recordings, there are level issues — the quiet songs are whispers and the noisey songs are loud as heck — so there are some minor artifacts from my editing to create a more consistent level throughout. Ultimately the sound quality is quite excellent. Enjoy!
Stream "Drug Test":

Download the Complete Show [MP3] / [FLAC]
Note: All of the material on this site is offered with artist permission, free to fans, at our expense. The only thing we ask is that you download the material directly from this site, rather than re-posting the direct links or the files on other sites without our permission. Please respect our request, and feel free to repost the Soundcloud links.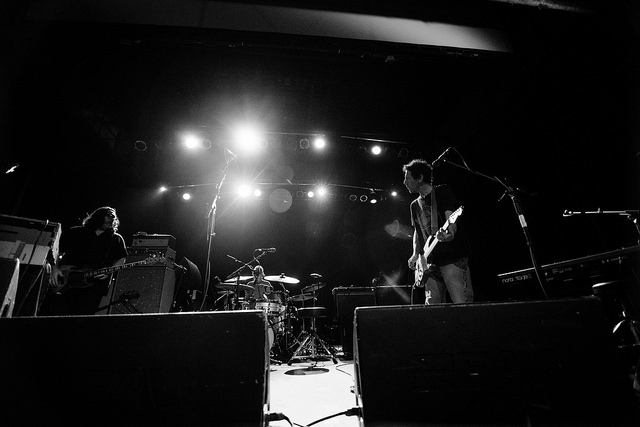 Yo La Tengo
2014-12-06
Trocadero Theatre
Philadelphia PA
Digital Master Recording
Soundboard + Audience Matrix
Soundboard [Engineer Mark Luecke] + Schoeps CCM4u Cardioids > Sound Devices 744t > 2 x 24bit 48kHz wavs > Soundforge (level adjustments, mixdown, set fades) > CDWave 1.95 (tracking) > TLH > flac (320 MP3 and tagging via Foobar)
Recorded and Produced by nyctaper
Setlist:
[Total Time 1:57:56]
01 Cherry Chapstick
02 Let's Save Tony Orlando's House
03 Super Kiwi
04 [banter – Tara intro]
05 Demons
06 Mr. Tough
07 [dedication to Richard Evans]
08 If It's True
09 [banter – 30 years]
10 The Empty Pool [Yung Wu]
11 The Whole of the Law [The Only Ones]
12 The Summer
13 [banter – XPN]
14 I'll Be Around
15 Big Day Coming
16 We're An American Band
17 [false start]
18 Drug Test
19 Sugarcube
20 Ohm
21 The Story of Yo La Tango
22 [encore break]
23 Today Is The Day
24 [banter – Antietam intro]
25 Orange Song [Antietam]
26 [thanks]
27 What Can I Say [NRBQ]
If you download this recording from NYCTaper we expect that you will PLEASE SUPPORT Yo La Tengo, visit their website, and purchase the Extra Painful reissue from Matador Records [HERE].