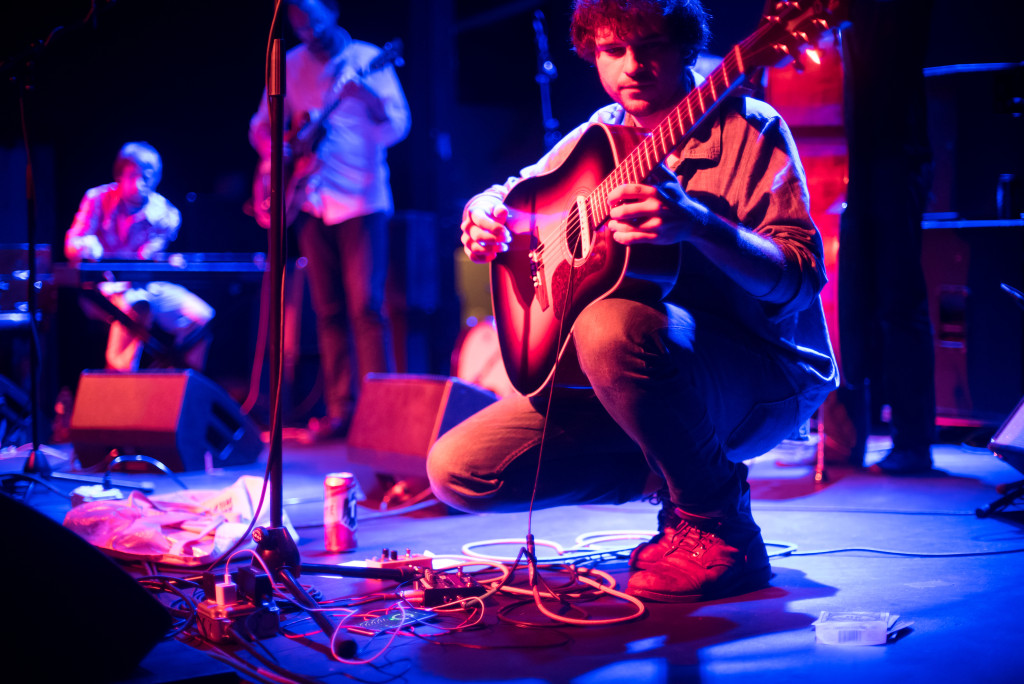 [photos by Jill Harrison]
For the past decade, Tompkins Square Records has pursued the dual missions of enlightening listeners about the current state of folk and guitar music, as well as unearthing underappreciated classics, such as John Hulburt's Opus III, compilations of gospel songs, and Harry Taussig's Fate Is Only Once. But on the first side of that slate — current artists — is where Tompkins Square has stood out the most, offering up records by Daniel Bachman, Shawn David McMillen, and last year's Grammy-nominated set of music from respected folk singer Alice Gerrard. The biggest single breakout, though, might be Ryley Walker, of Chicago, whose debut album the label released back in 2014. From there, things moved fast, with Walker blowing our minds at a full-band appearance at Hopscotch, releasing his second album, Primrose Green, in 2015 (and a live album with Bill MacKay in August), and ending up on the roster of, among others, the Pitchfork Music Festival, Levitation, and Wilco's Solid Sound Festival. As followers of this site know, we've seen him a slew of times since that Hopscotch show, each revealing new songs and new dimensions of his style.
Fitting, then, that Ryley and his band would headline Tompkins Square's tenth-anniversary celebration, at the top of a bill that also featured living legend Michael Chapman and the rediscovered D.C. folk musician Bob Brown, playing his first show in 30 years. Ryley said at the outset that he and his band didn't deserve to be headlining over such company, and even if that wasn't necessarily true, they certainly were the young guns among their peers. What followed that introduction was a sprawling, hour-plus set consisting of just four songs, all of them non-album material, two of them brand new to us. The band began with "The Roundabout," a fitting metaphor for a song about possibilities that can just as easily turn into inertia. After that came the night's sprawling centerpiece, "Sullen Mind," which we first heard at Le Poisson Rouge back in June. This time, the song became a 25-minute showcase for the band and Ryley's talents, the natural interplay among them obvious they grinned visibly at the transitions. "Funny Thing She Said" continued in that vein, giving sax man Levon Henry a showcase for his talents before Ryley even got to the first verse. This and "Sullen Mind" underscore how far Walker has come since even that 2014 Hopscotch performance; if one were inclined to accuse him of being a "traditional" folk musician, or some kind of tribute act for Van Morrison and the classics, his recent performances throw those assumptions out the window. What Walker is attempting here is something entirely different, and something that's a total stranger to the Civil War-wave garbage that passes for modern folk or "indie" music on most stages these days. That he has already attempted it on the biggest stages, such as at Pitchfork, further proves that Walker isn't taking the easy, commercial way here. More power to him.
After begging from the audience, the band closed with an even-newer tune, "The Great and Undecided," a slightly more traditional number (so far) that we're excited to hear develop. As Ryley enlightened us at the outset of this show, Tompkins Square has been delivering "sick nugs" for ten years now. I feel confident saying Ryley Walker will keep doing the same. He represents the best of the future, as well as the past.
I recorded this set with a soundboard feed from engineer Dustin Meyers together with Schoeps MK4V microphones. The sound quality is outstanding. Enjoy!
Download the complete show: [MP3] | [FLAC] | [Apple Lossless]
Stream the complete show (note: banter tracks removed. Enjoy them on the download versions):

Ryley Walker
2015-10-09
Rough Trade NYC
Brooklyn, NY USA
Exclusive download hosted at nyctaper.com
Recorded and produced by acidjack
Soundboard (engineer: Dustin Myers) + Schoeps MK4V (PAS, FOB)>KC5>CMC6>>Edirol R-44>2x24bit/48kHz WAV>Adobe Audition CS 5.5 (align, mix down, fades, compression, limiter)>Izotope Ozone 5 (EQ, imaging, effects)>Audacity 2.0.3 (track, amplify, downsample, dither)>FLAC ( level 8 )
Tracks [Total Time 1:05:05]
01 [intro banter]
02 The Roundabout
03 Sullen Mind
04 [tuning]
05 Funny Thing She Said
06 [encore break]
07 The Great and Undecided
Band:
Ryley Walker
Ben Boye – Keys
Brian Sulpizio – Guitar
Anton Hatwich – Bass
Ryan Jewell – Drums
Levon Henry – Sax
If you enjoyed this recording, PLEASE SUPPORT Ryley Walker, like him on Facebook, and buy All Kinds of You and The West Wind EP on Tompkins Square and Primrose Green from Dead Oceans. Also, check out Ryley's new acoustic live album with Bill MacKay, which you can stream and buy here.