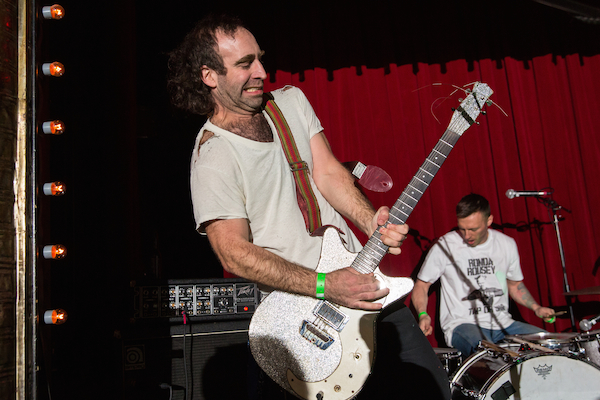 [Photo by Walter Wlodarczyk]
If you see Beech Creeps creeping your way, don't be alarmed. Despite the name, they share little in common with the other beach-themed bands out there. No, Beech Creeps are more akin to the Stooges' seedy glam-rock and the Scientists' swampy proto-grunge than any chillwave analog synth project. Veterans of some highly-regarded Brooklyn noise acts, these guys travel under the assumed identities of PP Coolata, formerly of Ex Models and Knyfe Hyts; Yuka Mofongo, formerly of Pterodactyl; and Ron Llave, formerly of People Get Ready and Yeasayer. Their debut self-titled record came out just last month on Monofonus Press, but they've been playing out consistently around Brooklyn since 2013. Their Union Pool set brings the heaviness with an air of confidence that belies the relatively short period the band has been together. Six out of the seven tracks off their record are represented here but it took only a couple to convert the packed crowd into true believers. If the eerie "Everybody Loves the Beach" giving way to the full-on guitar crunch of "Teenage Boogie" doesn't do it, you'll no doubt join the ranks of the converted after hearing standouts "Son of Sud" and "Arm of the T Rex," both of which spotlight the full range of the 'Creeps. You may feel a little dirty afterwards—just rinse off the sand and you'll be fine.
I recorded this set with the mics clamped to the balcony, along with a board feed from Union Pool FOH Leah. The sound is outstanding. Enjoy!
Beech Creeps will be playing a free show on April 24 at Brooklyn Night Bazaar with the legendary Moss Icon. Be sure not to miss it!
Download the complete show: [MP3] | [FLAC]
Stream the complete show:

Note: All of the material on this site is offered with artist permission, free to fans, at our expense. The only thing we ask is that you download the material directly from this site, rather than re-posting the direct links or the files on other sites without our permission. Please respect our request.
Beech Creeps
2015-04-04
Union Pool
Brooklyn, NY
Exclusive download hosted at nyctaper.com
Recorded and produced by Eric PH
Soundboard (engineer: Leah) + AKG C480B/CK61 (FOB, LOC, PAS) > Roland R-26 > 2xWAV (24/48) > Adobe Audition CC (align, balance, mixdown) > Izotope Ozone 5 (EQ, Tape Exciter) > Audacity 2.0.5 (amplify, fades, downsample, dither, tracking, tagging) > FLAC (16/44.1, level 8)
Tracks [30:23]
01. Everybody Loves the Beach
02. Teenage Boogie
03. Times B Short
04. Son of Sud
05. Arm of the T Rex
06. Long Walk Home
Support Beech Creeps: Facebook | Bandcamp | Buy Beech Creeps from Monofonus Press