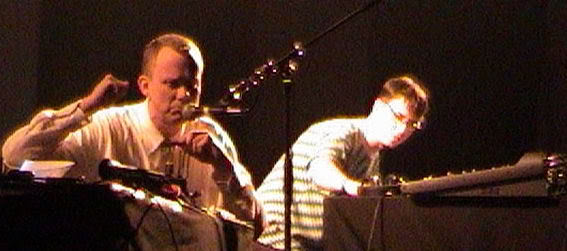 Unique electronic duo Matmos, joined by So Percussion, trumpeter Dave Douglas and harpist Zeena Parkins, presented an extraordinary amalgam of sound on Saturday night. The "orchestra of sound" produced rhythmic music with standard instruments such as piano, drums, harp and timpani, but also created whole songs from such everyday objects like aluminum cans, metal sheets, foil, shells, pottery, water, and pieces of clay. The highlight of the evening was the excerpt from the electronic version of Verdi's Aida, commissioned by the City of Verona Italy.
As the floor-to-ceiling curtain was raised at the opening of the Aida piece, the Allen Room at Lincoln Center's Rose Hall window revealed a breathtaking panorama of the Columbus Circle/Central Park/59th Street area. The convergence of the electronic music with the stunning cityscape was one of those perfect moments of live music when the setting perfectly compliments the performance.
When I ordered the tickets online, I assumed that "Row A" would place me in the first row. I did not imagine that the first row would be a mere 5 feet from MC Schmidt. The experience of being within arm's reach of the performer was truly a fortunate stroke of luck. However, such a position made the logisitics of recording this concert, despite express permission from Matmos, practically impossible. Instead of opening my equipment bag, I placed it under my seat and thoroughly enjoyed this tremendous experience.
In appreciation of readers who expected a recording of this concert, I have reached into my recent archives and have posted above a Zeena Parkins concert I recorded in 2006.
Please support Matmos and purchase their CDs