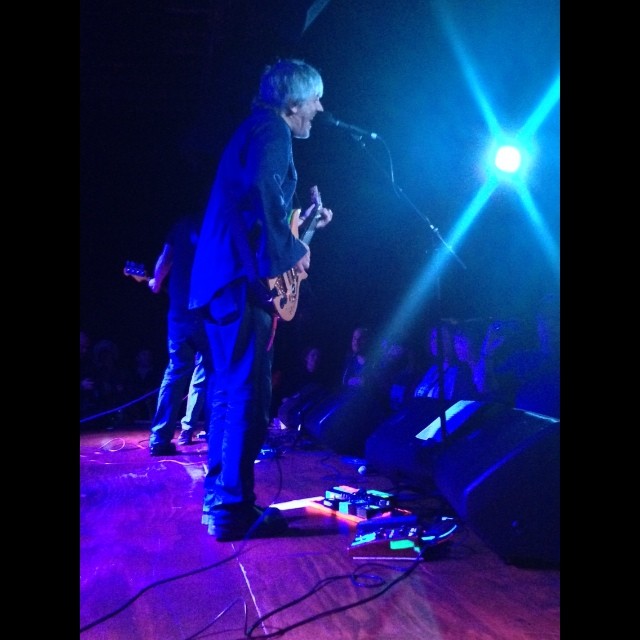 [photo by Kevin Bannon]
The last time we checked in with Lee Ranaldo, he played the penultimate show in the history of Maxwell's. At that point, Lee had a series of new songs that would eventually appear on his second post-Sonic Youth album Last Night on Earth which was ultimately released in October. Like its predecessor 2102's Between the Times and the Tides, Last Night is a mature, honest and straightforward rock album. For the new album and the tours of 2013, Lee has credited his band "The Dust" which currently consists of downtown guitar wiz Alan Licht, bassist Tim Lüntzel and Sonic Youth drummer Steve Shelley. At the Bell House on Saturday night, Lee and the band played a lengthy set to a energetic crowd. All nine tracks of the new album were performed in the set along with selected older tracks and three interesting covers. It was the last night of the tour and Lee referenced the difficulties of a broken amp and a series of broken strings. But the band persevered and produced 100 minutes of outstanding music that was both tight and also offered a chance for the band to stretch out and jam. Lee Ranaldo and The Dust will appear again in NYC at the Union Pool on February 13.
I recorded this set with the Sennheiser cards mounted in the raised VIP area and mixed with an excellent board engineered by Lee's tour FOH Jay Eigenmann. The sound quality is superb. Enjoy!
Stream "Lecce Leaving":

Stream "Everybody's Been Burned" (Byrds cover):

Download the Complete show [MP3] / [FLAC]
Note: All of the material on this site is offered with artist permission, free to fans, at our expense. The only thing we ask is that you download the material directly from this site, rather than re-posting the direct links or the files on other sites without our permission. Please respect our request.
Lee Ranaldo and The Dust
2014-01-11
Bell House
Brooklyn, NY USA
Digital Master Recording
Soundboard + Audience Matrix
Soundboard (engineer Jay) + Sennheiser MKH-8040s > Edirol R-44 (Oade Concert Mod) > 24bit 48kHz wav file > Soundforge (level adjustments, set fades, downsample) > CDWave 1.95 > (tracking) > TLH > flac (320 MP3 and Tagging via Foobar)
Recorded and Produced
by nyctaper
Setlist:
[Total Time 1:37:49]
01 KeyHole
02 Last Night On Earth
03 Lecce Leaving
04 By the Window
05 Ambulancer
06 Home Chds
07 [The Rising Tide intro]
08 The Rising Tide
09 Off The Wall
10 Angles
11 Late Descent
12 Everybody's Been Burned [Byrds]
13 [banter – thanks]
14 Xtina as I Knew Her
15 [encore break]
16 Fragile [Wire]
17 Mannequin [Wire]
18 Blackt Out
If you download this recording from NYCTaper we expect that you will PLEASE SUPPORT Lee Ranaldo, visit his page at the Sonic Youth website, and purchase Last Night On Earth directly from the Matador Records website [HERE].