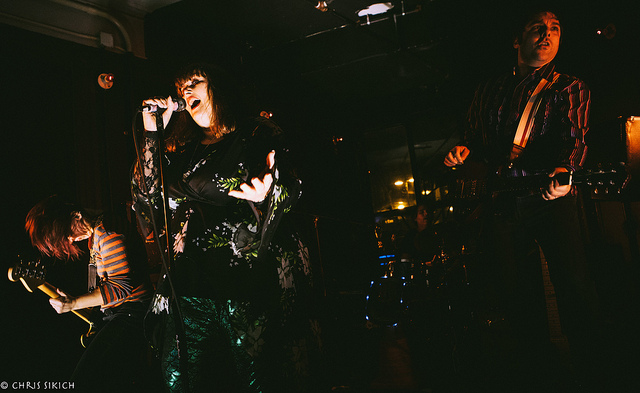 Last week, it was announced that legendary Athens GA post-punk band Pylon will be releasing a comprehensive box set which will include all of their official releases, many unreleased tracks, and a 200-page book documenting the history of this incredibly influential group. Pylon Box will be available through New West Records on November 6, 2020.
For a band with such a lasting legacy, it was truly a blessing to have recorded the original band, including what was ultimately the last show the band played before the sad and untimely death of guitarist Randy Bewley in 2009. In 2014, lead singer Vanessa Briscoe Hay formed the Pylon Reenactment Society. At a gig we recorded at Mercury Lounge in July of 2018, it was clear that this new band was not just a tribute to the late great Pylon, but was a natural and organic continuation of the legacy of the band with top notch musicians who were friends with the original members. Our experiences motivated me to invite Pylon Reenactment Society to return to NYC in January of 2019 to perform at Market Hotel.
The Market Hotel show was yet another confirmation that although the original Pylon is a perfect subject for retrospective box sets, the current band is still a terrific outfit and a pure pleasure to experience live. This set included not only all of the classic numbers you'd hope to hear, but some extremely promising new material. In this current involuntary "break" from seeing shows, its great to remember the types of events that keep us coming back to see bands like Pylon.
I recorded this set with the installed AT mics mixed with an excellent soundboard feed from Eric. The sound quality is superb. Enjoy!
Download the Complete Show [MP3] [FLAC]
Stream the Complete Show:
Pylon Reenactment Society
2019-01-05
Market Hotel
Brooklyn NY
Digital Master Recording
Soundboard + Audience Matrix
Soundboard [engineer Eric Lemke] + Audio Technica 4051 > Sound Devices 744t > 2 x 24bit 48kHz wav files > Soundforge (post-production) > CDWave 1.95 (tracking) > TLH > flac (320 MP3 and tagging via Foobar)

Recorded and Produced by nyctaper
Setlist:
[Total Time 1:23:30]
01 Driving School
02 Working Is No Problem
03 Volume
04 Cool
05 Gravity
06 Cliff Notes
07 Danger
08 Look Alive
09 Flowers From Everywhere
10 Crazy
11 Feast On My Heart
12 [thanks]
13 Beep
14 [band introductions]
15 Compression
16 Messenger
17 Precaution
18 Stop It
19 [encore break]
20 M Train
21 K
22 Buzz
PLEASE SUPPORT Pylon Reenactment Society: Website | Bandcamp | Buy Pylon Box