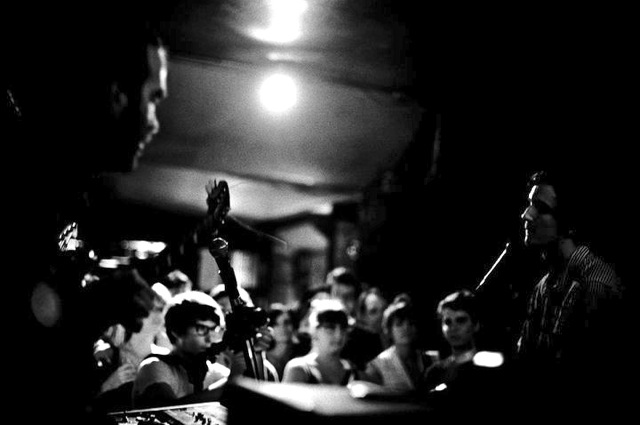 [Photo from Holiday Shores' facebook page]
We were thrilled when Holiday Shores agreed to play our first-ever Northside Festival showcase. Like Northside favorites Surfer Blood, Holiday Shores are part of a growing contingent of Florida bands making interesting music (they're from Tallahassee). The band took the opportunity at our showcase to perform five new songs that will appear on their forthcoming LP, New Masses for Squaw Peak, which will be released on September 13 by twosyllable records. Judging by this show at Public Assembly, Holiday Shores' latest material has evolved somewhat from their first record, Columbus'd the Whim, with longer, more languid compositions and a more distinct sound that relies heavily on 60s organ sounds while staying true to their beach-y aesthetic. This is summer music, sure, "of the beach and not for the beach", as Pitchfork put it, but it has become something more, too. Like many of the bands featured at our showcase, Holiday Shores have some exciting next steps ahead of them.
I recorded this set from the same location as the Quilty recording, emphasizing the soundboard feed over the audience feed as it was excellently balanced. Other than some bursts of feedback in the monitors during a couple of points, the sound is excellent. Enjoy!
Stream "Threepeat Got Old":
[audio:http://www.nyctaper.com/H1906HolidayShores0211/Holiday Shores-Threepeat Got Old.mp3]
Direct download of MP3 files [HERE]
Download the Complete show in FLAC [HERE].
Follow acidjack on Twitter
Holiday Shores
2011-06-19
NYCTaper Northside Showcase
Public Assembly
Brooklyn, NY USA
An acidjack master recording
Recorded and produced by acidjack for nyctaper.com
Equipment: AKG C414 B-XLS (cardiod)>Sound Devices USBpre2 + Soundboard >> Edirol R-44 [Oade Concert Mod] (24/48)
Position: Each mic clamped to pole, split 5ft
Mastering: 2x24bit/48kHz WAV>Audacity (mixdown, set fades, tracking, amplify and balance)>FLAC ( level 8 )
Tracks
01 Mystic Pharaohs (Masc Pharaohs)
02 We Couldn't Be Together
03 [banter]
04 Spells
05 Threepeat Got Old
06 Airglow
If you download this recording, we expect that you will PLEASE SUPPORT Holiday Shores, like them on facebook, and purchase their records directly from twosyllable records [HERE]