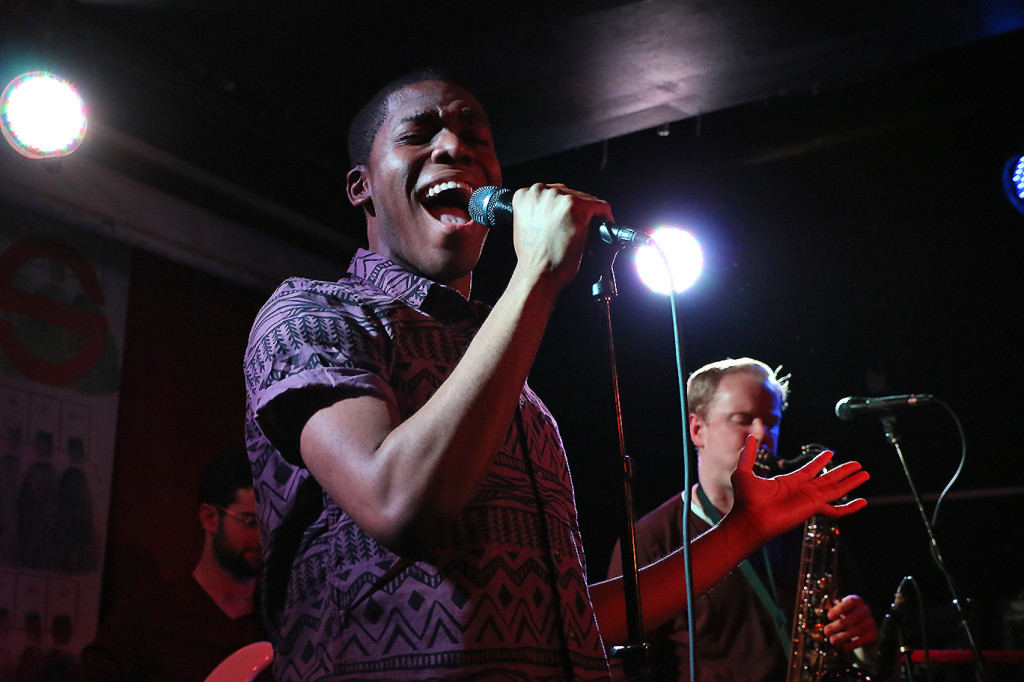 [Photo from the prior week's show courtesy of Shayne Hanley of Shutterhound Photography]
I guess I shouldn't say I was shocked at the size and age of the crowd that was out for The Rooks' third of four Piano's Thursday night residencies. If you watch the Grammys or read most music blogs, you could be forgiven for expecting fans to only be interested in bands defined more by their haircuts or who their "producer" credits go to than the music they are making. The Rooks are a complete breath of fresh air in that respect. Their value proposition is simple: Well-executed, well-crafted classic R&B and soul delivered with maximum enthusiasm and minimum attitude. Think the Jackson 5, Stevie Wonder, The Spinners.
Recent grads of Wesleyan University (a school famous for birthing less-conventional bands like MGMT and Das Racist), this young sextet has honed their craft to a tee, playing music that honors its history and lives up to its standards. That their cover songs, like the Fugees version of "Killing Me Softly" or Destiny's Child's "Bills, Bills, Bills" stand up as well as they do next to the band's originals like their single "Twister" or the uptempo "Fall For You" is a testament to just how good they are at what they do. But the best compliment to them of all comes from the crowd they bring out — they bring bodies in the door, and once they're there, get them moving. I had no doubt that this residency will launch this band to bigger stages — and it already has. The last night of the residency this Thursday, January 30 at Pianos, is sold out, but the band will be at the Gramercy Theatre on February 27. Tickets here.
I recorded this set with a soundboard feed provided by house engineer Wilfred, combined with Schoeps MK4V microphones. I weighted the final mix more heavily toward the board than I would have liked, owing to the rowdiness of the crowd, who you can clearly hear having a good time on the tape. While you lose a little bit of "room" feel, the sound quality is nonetheless outstanding. Enjoy!
Stream "Fall For You"

Stream "Killing Me Softly" [The Fugees]

Download the complete show [MP3] | [FLAC]
Note: All of the material on this site is offered with artist permission, free to fans, at our expense. The only thing we ask is that you download the material directly from this site, rather than re-posting the direct links or the files on other sites without our permission. Please respect our request.

[Photo of this show by acidjack]
The Rooks
2014-01-23
Piano's
New York, NY USA
Exclusive download hosted at nyctaper.com
Recorded and produced by acidjack
Soundboard (engineer: Wilfred) + Schoeps MK4V>KC5>CMC6>Sound Devices USBPre2>>Edirol R-44 [OCM]>2x24bit/48kHz WAV>Adobe Audition CS 5.5 (align, adjust levels, mix down)>Izotope Ozone 5 (EQ, effects, stereo imaging)>Audacity 2.0.3 (tracking, fades, amplify, balance, downsample, dither)>FLAC ( level 8 )
Tracks [Total Time 58:47]
01 Grounded
02 Fall For You
03 Twister
04 Talk To Me
05 Killing Me Softly [Fugees version]
06 You're the One
07 Love You Down [Me'shell Ndegeocello version]
08 Doubt
09 Don't Change My Mind
10 [banter]
11 Bills, Bills, Bills [Destiny's Child]
12 Let Down
13 Lefty
If you enjoyed this recording, PLEASE SUPPORT The Rooks, like them on Facebook, and buy their music on their bandcamp page.