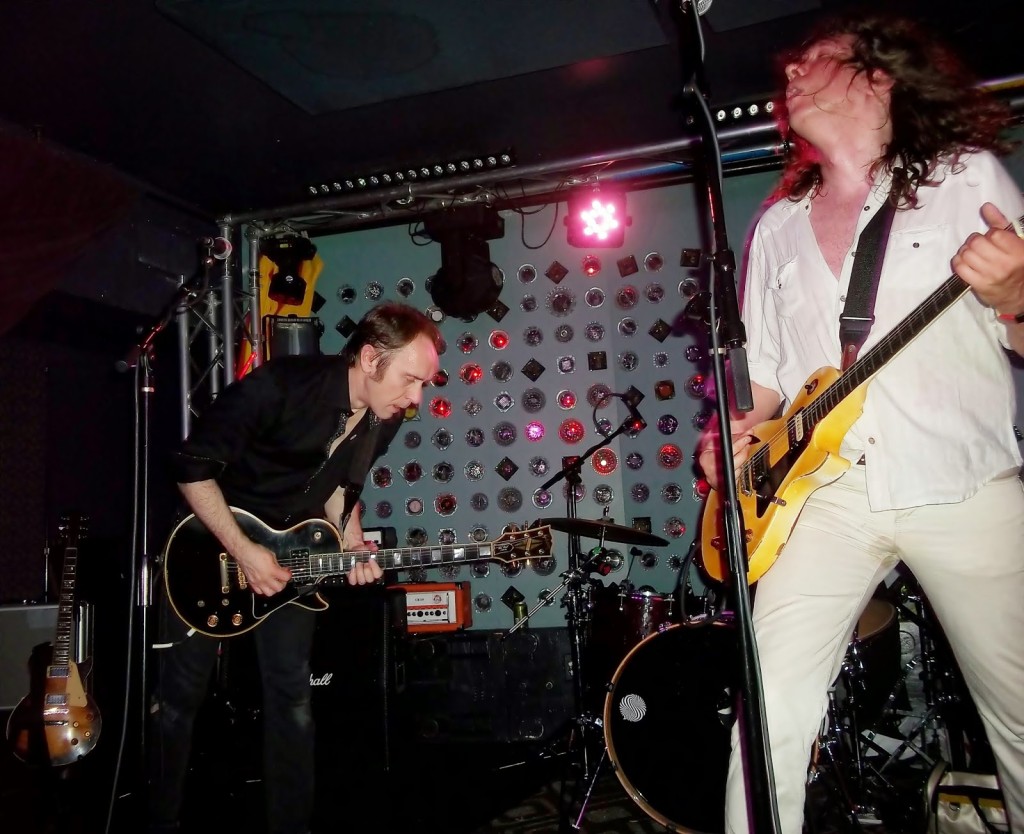 [photo by Dave Cromwell – complete set at his blog]
As NYCTaper readers are aware, we are big fans of the guitar wizard Doug Gillard. So when it was announced that Doug's first major band, Cleveland's Death of Samantha would not only reunite but come to play a show at Baby's All Right, we were obviously going to be there. Death of Samantha was one of the major midwest "gunk punk" bands of the late 80s who released three albums and an EP on pioneering label Homestead Records, but by 1990 they'd run their course and the members moved on two other projects — including stints by both John Petkovic and Doug Gillard in Guided By Voices. But last year DOS decided to have some fun with a brief reunion and the rehearsals went so well that they recorded the last one and put it out as a "compilation" type album — new live-in-studio recordings of the old songs called If Memory Serves Us Well. At Baby's, memory did indeed serve all of us well as both fans and the band had a rip-roarding time blasting through the classics and even taking some time to stretch the songs out a bit. Gillard's guitar work was superb as per usual, and he propelled the quartet throughout the evening. But Petkovic is ever the entertainer and his song performance, between-song banter and give-and-take with the crowd was both inspired and hilarious. As a result, the set was a ninety-minute enjoyable blast back in time and perhaps given the success of this brief reunion, not the last time we'll see Death of Samantha together on stage.
This set was recorded by House FOH Devin, who provided a superb live mix of the multitrack. There are also cardioid microphones installed near the lighting rig about 15 feet in front of the stage. In post-production, I mixed the two sources and the results are quite excellent. Enjoy!
Stream "Savior City":

Download the Complete Show [MP3] or [MP3] / [FLAC] or [FLAC]
Note: All of the material on this site is offered with artist permission, free to fans, at our expense. The only thing we ask is that you download the material directly from this site, rather than re-posting the direct links or the files on other sites without our permission. Please respect our request
Death of Samantha
2014-05-29
Babys All Right
Brooklyn, NY USA
Digital Soundboard Multitrack Recording
Multitrack Soundboard (engineered and recorded by Devin Foley) > Devin mix Wav files + Room mic wav files > Soundforge (level adjustments, set fades) > CDWave 1.95 (tracking) > TLH > flac (320 MP3 and Tagging via Foobar)
Produced by nyctaper
Setlist:
[Total Time 1:25:28]
01 Coca Cola and Licorice
02 Bed of Fire
03 [banter – kale]
04 Now It's Your Turn (To Be a Martyr)
05 Conviction
06 Couldn't Forget 'Bout That
07 Savior City
08 [banter – Pyramid show]
09 Good Friday
10 Rosenberg Summer
11 Sexual Dreaming
12 Turquoise Hand
13 Blood and Shaving Cream
14 [banter – New York]
15 Simple as That
16 [banter – freedom sampler]
17 Harlequin Tragedy
18 Blood Creek
19 [encore break]
20 Amphetamine
If you download this recording from NYCTaper, we expect that you will PLEASE SUPPORT Death of Samantha, visit their website, and purchase the If Memory Serves Us Well compilation directly from their website [HERE].