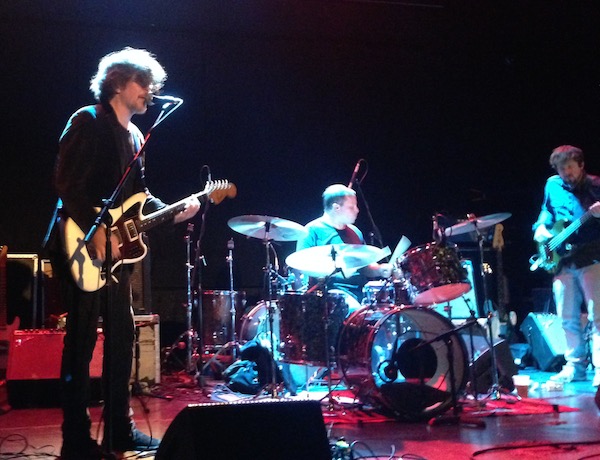 It's been a wild, satisfying year for those of us following Chris Forsyth & The Solar Motel Band. I've been treated to so many live excursions from the band since January, I'm running out of adjectives. Luckily they've got an upcoming 2xLP+7″, The Rarity of Experience, dropping early 2016 to help me replenish my vocabulary. Three songs from this Bowery Ballroom set will feature on that album: "Anthem," "High Castle Rock," and "The Rarity of Experience, Parts 1–2." The back half of the set covers last year's Intensity Ghost, with "The Ballad of Freer Hollow" and the dreamy, meandering closer "I Ain't Waiting." Opening up for the alt-country Futurebirds, you might think Forsyth and gang would hold something back for the unfamiliar audience—instead, they let it rip and I'll daresay they won over an unsuspecting crowd entirely.
I recorded this set from our usual spot in the venue, with a board feed from FOH Kenny. The sound is fantastic. Enjoy!
New Show Announcement!
We are extremely pleased to be able to bring Chris Forsyth and the Solar Motel Band back to NYC. On December 12, 2015, NYCTaper Presents the band at Trans Pecos. The direct support for this show is provided by the outstanding Maine-based psych-rock band Herbcraft. Tickets are available now at Ticketfly [HERE]. The Facebook invite page is here.
Downloads are available at the Live Music Archive

Chris Forsyth & The Solar Motel Band
2015-11-12
The Bowery Ballroom
New York, NY
Exclusive download hosted at nyctaper.com
Recorded and produced by Eric PH
Soundboard (engineer: Kenny) + AKG C480B/CK61 (PAS) > Roland R-26 > 2xWAV (24/48) > Adobe Audition CC (align, compression, mixdown, normalize, fades) > Izotope Ozone 5 (EQ) > Audacity 2.0.5 (downsample, dither, tracking, tagging) > FLAC (16/44.1, level 8)
Tracks [48:35]
01. Anthem
02. [guitar swap]
03. High Castle Rock
04. [banter]
05. The Rarity of Experience, Parts 1-2
06. [banter]
07. The Ballad of Freer Hollow
08. I Ain't Waiting
If you enjoyed this recording, PLEASE SUPPORT Chris Forsyth. Visit his website, like him on Facebook, and buy Intensity Ghost from No Quarter.