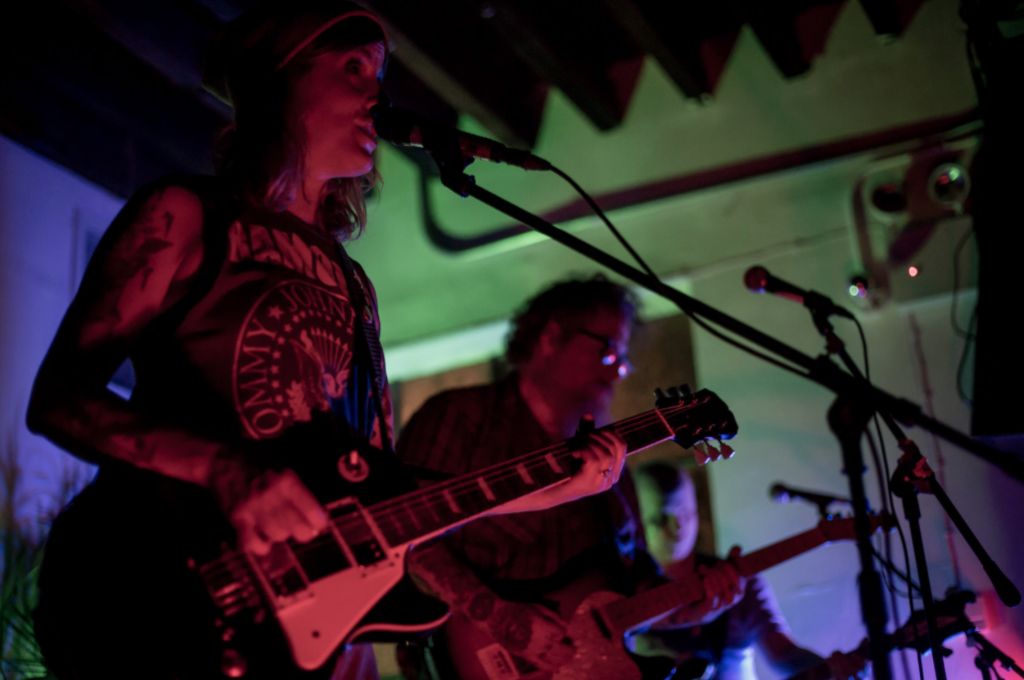 [photos by Rich Tarbell]
How unlikely, really, that a band that represents its frontman's second act (Chuck Cleaver was in Ass Ponys), that's several albums into its career (Forever Sounds is the band's sixth; Attica, its fifth, could be called its breakout), that comes from a city (Cincinnati) that nobody accuses of being a cultural or media hub, and that seems delightfully uninterested in the posing, PR machine and gimmicks that tend to attract notice, would end up at a career peak here in New York, on a Wednesday night, in Ridgewood, Queens, and a lot of people would show up.
Whether you think of Wussy as a band that defies odds or that is the picture of what hardworking, road-hardened rock musicianship ought to look like probably depends on some combination of your generation and your cynicism level. You don't have to fall into one camp or the other to admire the 100-minute set on display here, which shot like a cannon from the oddly-lit but accommodating stage of Trans-Pecos last Wednesday. This site has flogged this band incessantly since 2010, and we relished the chance to come full circle and serve as promoters of the show. And, true to Cleaver's observation when we caught them in 2015, they "suddenly" had a crowd.
It'd be hard to cherry pick all the specific things that were exceptional about this set, but one quick glance at the 100-minute run time should give an idea of where we're headed. Unbothered by the pesky time limits you find at corporate venues, the band stretched into a set that spanned their career, from 2005's Funeral Dress to their 2016 album, Forever Sounds. Rarely-played gems like the opener, "Little Paper Birds" from their self-titled 2009 record merged perfectly with regular rotation winners like "Pizza King" and new, shoegaze-leaning favorites like "Dropping Houses" and "Donny's Death Scene." We got one but not two encores, the first of which included a rare cover of New Order's "Ceremony."
If the setlist came as a welcome surprise, what was on usual display was the band's hardworking, crowd-pleasing mojo, including Cleaver and Lisa Walker's wry onstage banter. She was the one, after all, who refused to leave the stage for the pretend "encore break," preferring instead to use it as an opportunity to play another song. And if that first encore, with "Ceremony" went well, it still wasn't clear that the band were going to convince themselves to throw it back in for a second, but the crowd wouldn't let them leave. Two more songs later, and well past midnight, the band finally closed things out for real, and everyone left happy. In the band's fine tradition, they once again got more than their money's worth.
nyctaper and I recorded this set with Schoeps MK4V microphones at the stage lip, Neumann KM150s capturing the room sound, and a soundboard feed from engineer David Fine. The sound quality s excellent. Enjoy!
Download the complete show: [FLAC/ALAC/MP3]
Stream the complete show (less banter tracks):

Wussy
2016-03-30
Trans-Pecos
Queens, NY USA
Exclusive download hosted at nyctaper.com
Recorded by acidjack and nyctaper
Produced by acidjack
Schoeps MK4V>NBob Cables>PFA>Aeta PSP3 + Soundboard (engineer: David Fine) + Neumann KM150 (at SBD, ROC, PAS)>>Zoom F8>6x24bit/48kHz WAV>Adobe Audition CS 5.5 (align, mix down, adjust levels)>Izotope Ozone 5 (EQ, compression, tube effect)>Audacity 2.0.3 (track, amplify, balance, downsample, dither)>FLAC ( level 8 )
Tracks [Total Time 1:38:03]
01 Little Paper Birds
02 She's Killed Hundreds
03 Gone
04 Donny's Death Scene
05 [banter – Dangerbird]
06 Teenage Wasteland
07 [banter – Ed Ames]
08 In The Tall Weeds
09 Pulverized
10 Pizza King
11 Better Days
12 [banter – thanks]
13 Hello, I'm a Ghost
14 Sidewalk Sale
15 To The Lightning
16 [banter – Job's Daughter's Club]
17 Dropping Houses
18 Aliens In Our Midst [The Twinkeyz]
19 I Give You All
20 Beautiful
21 [encore break]
22 Majestic-12
23 [banter]
24 Ceremony [New Order]
25 Airborne
26 [second encore break]
27 Gene, I Dream
28 Rigor Mortis
SUPPORT Wussy: Website | Buy Forever Sounds | Bandcamp