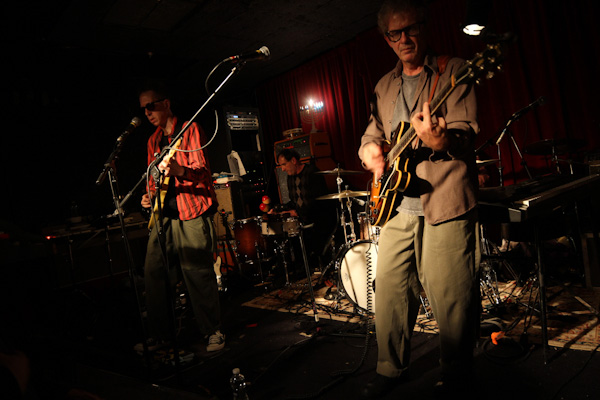 [photo from Yo La Tengo Hanukkah Diary
At this point chronologically, the Feelies v.3 has lasted almost as long as versions 1 or 2. But what has been consistent is that sound — the methodical, trance-like rhythms providing a backdrop for the melodic and precise guitar work of Glenn Mercer. Another consistent aspect of the band is their commitment to Maxwell's and Hoboken. When Yo La Tengo came calling offering an opening gig to benefit their shared storm-tattered town, the Feelies were there on Night 3 to play and provide support to that show's charity — this time the NJ Community Food Bank. The band then proceeded to play a blistering set and perhaps the longest opening gig for a Hanukkah show we've ever seen. But the crowd has no complaints, as the Feelies performed songs old and new with a clarity and purpose to behold. We're streaming the duo of "Raised Eyebrows" and "Crazy Rhythms", a segue that we've left intact. It encapsulated all that is right with the Feelies, ferocious duo-drums and a head-long crash into one of their oldest songs played at breakneck speed until it collapsed into a noise drenched finale of pure bliss.
I recorded this set in the same exact manner as the Yo La Tengo set from this night and the sound is superb. Enjoy!
Stream "Raised Eyebrows – Crazy Rhythms":

Download the Complete show [MP3] / [FLAC]
While not a strict requirement in order to access this recording, if you download this show we encourage you to support the Night 3 charity for whom both bands played this show. The NJ Community Food Bank is collecting specifically for Hurricane Sandy relief at this time, and there is a donate button on the top of their web site [HERE].
Feelies
2012-12-10
Hanukkah Night 3
Maxwell's
Hoboken, NJ USA
Digital Master Recording
Soundboard + Audience Matrix
Soundboard + Sennheiser MKH 8040s > Edirol R-44 (Oade Concert Mod) > 2 x 24bit 48kHz wav files > Soundforge (level adjustments, set fades, downsample) > CDWave 1.95 (tracking) > TLH > flac (320 MP3 and Tagging via Foobar
Recorded and Produced
by nyctaper
2012-12-22
Setlist:
[Total Time 1:02:28]
01 Deep Fascination
02 For Now
03 Invitation
04 For Awhile
05 On the Roof
06 Lets Go
07 Higher Ground
08 The Final Word
09 Slipping (Into Something)
10 Away
11 Way Down
12 When You Know
13 Doin It Again
14 Time Is Right
15 Raised Eyebrows – Crazy Rhythms
(Thanks Jesse for the setlist)
If you Download this recording from NYCTaper, we expect that you will PLEASE SUPPORT The Feelies, visit their website, and purchase their official releases from the Bar/None Records website [HERE].