[Photos courtesy of Todd Zimmer.  See more of his excellent work HERE.]
Nobody, and I mean NOBODY, puts on a show like The Giraffes.  It's like trying to explain a UFO or Bigfoot sighting to someone: they may nod, they might be interested, they could be fascinated by your story, but they have absolutely no clue what it's all about until they experience it for themselves.  In 2011, lead singer Aaron Lazar decided to depart the band and, going out with an atomic-sized bang, had his last performance with them early that year.  The remaining members, Damien Paris, Andrew Totolos, and Jens Carstensen, soldiered on, mixing things up again by exploring the instrumental side of their oeuvre and recruiting two female vocalists to help flesh things out.
Three and a half years later, the murmurs and rumors of a full reunion concert turned into cold, hard fact.  And, like it was for Aaron's farewell show, I personally received a landslide of requests to record this night from literally all across the globe.  In their neverending quest to take the performance of live music and evolve it into a contact sport, The Giraffes proved that they haven't missed a beat.  Picking up where they left off, the crowd was right in step with the band and more than happy and willing to join in the antics that are the hallmarks of a Giraffes concert.  Welcome back, gentlemen.  We're looking forward to what else the future holds for you.
Due to the sheer size and design of The Wick, the acoustics can present a bit of a challenge.  The venue's house engineer, Eairon, was up to the task and, other than the occasional ring of feedback, produced an excellent mix.  We hope you like what you hear as much as we did.  Enjoy and PLAY IT LOUD!!
Special thanks to Damien, Drew, Aaron, Jens, and Tim for making this recording possible, and to the management and staff at The Wick for their courtesy and cooperation.

The Giraffes will soon be returning to the NYC area and performing on October 3rd at The Wick, as well as playing a few other dates in October.  Their new album, 'Usury', will be released on October 2nd.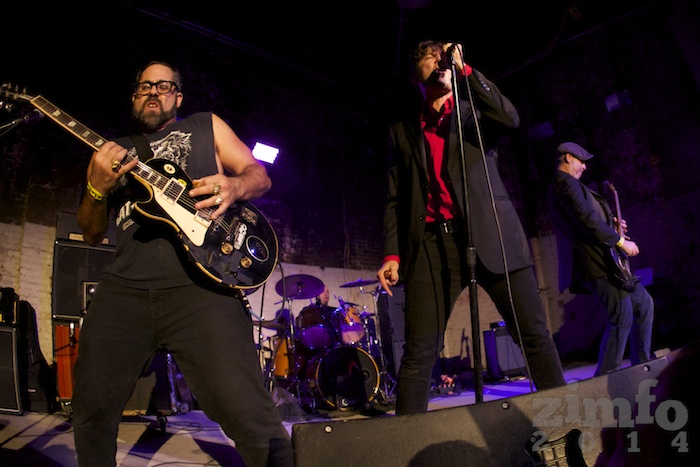 Stream "Medicaid Benefit Appliqué":

Stream "Sugarbomb":

Direct download of the complete show in MP3 [HERE]
Direct download of the complete show in FLAC [HERE]
If any of the links are no longer working, email nyctaper with a request for the download location of the files.
Follow Johnny Fried Chicken Boy on Twitter
Note: All of the material on this site is offered with artist permission, free to fans, at our expense.  The only thing we ask is that you download the material directly from this site, rather than re-posting the direct links or the files on other sites without our permission.  Please respect our request.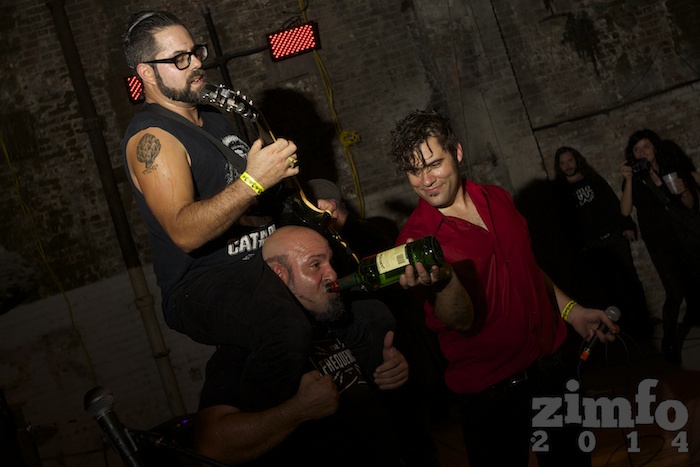 The Giraffes
Saturday, September 27, 2014
The Wick
Bushwick, Brooklyn, NY, USA
Source: Soundboard + Milab VM-44 Links (cardioid) > Edirol R-44 (WAV @ 24-bit/48kHz)
Lineage: R-44 > PC > Adobe Audition (mixdown, downsample, dither, tracking) > WAV (16-bit/44.1kHz) > TLH (check/fix SBEs, FLAC conversion) > FLAC ( level 8 )
The Wick's house engineer: Eairon
Recorded and produced by: Johnny Fried Chicken Boy
SETLIST:
[Total time: 1:25:32]
01. [intro]
02. Smoke Machine
03. Wage Earner
04. Prime Motivator
05. I'll Be Your Daddy
06. The Ballad of Sissyfist
07. On Lovers Lane
08. The City
09. Sickness (This Is)
10. The Power of Fatherhood
11. Medicaid Benefit Appliqué
12. [banter]
13. Haunted Heaven
14. Having Fun
15. Clever Girl
16. Man U.
17. Sugarbomb
18. Help My Blood Count
19. Done
20. [outro]
If you download this recording, we expect that you will PLEASE SUPPORT The Giraffes, visit their website and Facebook page, and purchase their official releases and merchandise at Amazon, iTunes, or your favorite record store or retailer.  And most definitely go see their shows.