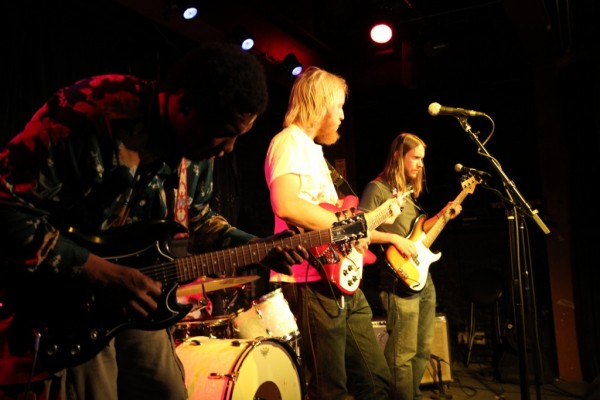 [Video still by Cannons]
I invited Bushwick's U Say USA to play our first annual NYCTaper Northside Showcase without having actually seen their live show, but on the strength of some very positive word of mouth. Though the term "Bushwick band" might conjure the thought of an experimental keyboard project, U Say USA use their neighborhood (prominently featured on the cover of their record, The Greatest Recession (I've Ever Been To)) as the jumping off point for their songwriting, which deals with populist themes appropriate to the current moment, with a sense of humor to boot. As to their sound, the band combines some of punk's jagged edges with a strong classic rock vibe. Particularly of note (and uncommon to an indie rock show) is lead guitarist Ian Gilliam's guitar work – the man can seriously solo. The band have been upping their gig count of late, including a recently-completed residence at Williamsburg's Trash Bar, and we expect to see more of them in the neighborhood.
I recorded this set in the same manner as the other sets from this show. This recording emphasizes the board feed a bit more heavily, but overall is quite good. Also, apologies for the minor tracking error on tracks 2 and 3. Enjoy!
Stream "If U Feel Like Ur Dreamin":
[audio:http://www.nyctaper.com/U9610USayUSA2011/IfUrDreamin.mp3]
Direct download of MP3 files [HERE]
Download the Complete show in FLAC [HERE].
Follow acidjack on Twitter
U Say USA
2011-06-19
NYCTaper Northside Showcase
Public Assembly
Brooklyn, NY USA
An acidjack master recording
Recorded and produced by acidjack for nyctaper.com
Equipment: AKG C414 B-XLS (cardiod)>Sound Devices USBpre2 + Soundboard >> Edirol R-44 [Oade Concert Mod] (24/48)
Position: Each mic clamped to pole, split 5ft
Mastering: 2x24bit/48kHz WAV>Audacity (mixdown, set fades, tracking, amplify and balance)>FLAC ( level 8 )
01 Cutting Down Forests
02 Rome>
03 Rome (cont)>Holding Barrels
04 Amy & the Ghost
05 Under the Weather
06 Where'd It All Go?
07 C.E.O.
08 If U Feel Like Ur Dreamin'
09 Diesel
If you download this recording from NYCTaper, we expect that you will PLEASE SUPPORT U Say USA, like them on Facebook, and purchase The Greatest Recession (I've Ever Been To) on their bandcamp page.