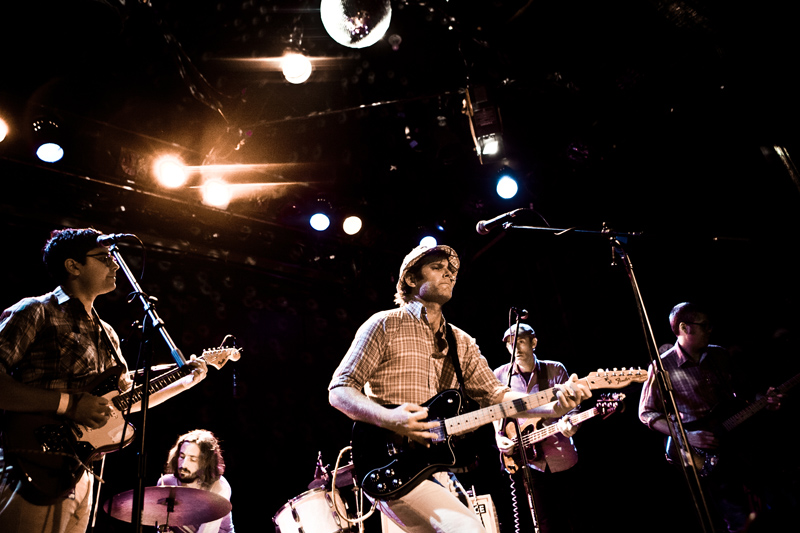 [Photos courtesy of JC McIlwaine. Check out his photography page here. More of his Fruit Bats concert photos, and a review of the show, are available at Bowery Ballroom's "House List" site here]
What a pleasure it is to see a band that knows what it wants, does it well, and draws a wide audience while doing it.  The Fruit Bats, another of several Chicago bands to be on the site of late, manage the difficult feat of making upbeat, canny music that is familiar but wholly their own.  "That was like a little bit of Bowie, a little bit of David Byrne and I think like a little bit of Dave Matthews… and a whole lot me" band founder, frontman and leading light Eric Johnson says as the finish the song "Dolly" early in this Bowery Ballroom set.  And while he's being a bit self-effacing (as Johnson often is), the kernel of truth there is apparent in the band's live show.  Johnson's sweet voice and Midwestern affability, combined with his natural ear for the pop hook, make the Fruit Bats a very approachable band, one that reminds you of the good things you like about your favorites, and maybe music in general.
The band was back at Bowery touring behind their new release, Tripper, which follows 2009's The Ruminant Band.   TRB was considered a high watermark for the band, with some outstanding songs that were represented on this night like "Feather Bed" (which recalls a young Elton John as much as anything I've seen in awhile), "Joy To the World" (performed this night as a solo number), and "Flamingo."  But based on their live renditions, it is to early to sell the new record short, either – witness "Tangle and Ray" or "Heart Like An Orange" for example, which hold their own with anything in the band's catalog.  Although the Fruit Bats are essentially a Johnson solo project in terms of the recorded output, his touring outfit plays together like a veteran band, with the casual competence that comes from years of working together.  Johnson's good-natured crowd banter, and the introduction (for many of us) of the new songs made for an excellent night.
I recorded this set with a soundboard feed provided by the Fruit Bats' sound engineer, together with DPA microphones.   The results are, as usual with Bowery, excellent.  Enjoy!
The Vetiver set was also recorded and will be posted soon.
Stream "Heart Like An Orange"
[audio:http://www.nyctaper.com/F9310FruitBats0211/fruitbats2011-09-13bowery_acidjack-04.mp3]
Stream "Flamingo":
[audio:http://www.nyctaper.com/F9310FruitBats0211/fruitbats2011-09-13bowery_acidjack-13.mp3]
This recording is now available for download in FLAC or MP3 at Archive.org [HERE].
Follow acidjack on twitter
Fruit Bats
2011-09-13
Bowery Ballroom
New York, NY USA
An acidjack master recording
Recorded and produced by acidjack for nyctaper.com
Soundboard + DPA 4021>Edirol R-44 [Oade Concert Mod]>2x24bit/48kHz WAV>Audition (EQ, effects, mixdown, smooth peaks, amplify and balance, downsample to 44.1kHz)>Audacity (tracking)>FLAC ( level 8 )
Tracks
01 [intro]
02 The Blessed Breeze
03 Tony the Tripper
04 Heart Like An Orange
05 [banter]
06 Dolly
07 [banter]
08 Lives of Crime
09 Feather Bed
10 Tangle and Ray
11 Being On Our Own
12 Singing Joy to the World
13 Flamingo
14 Legs of Bees
15 Primitive Man
16 Tegucigalpa
17 When You Love Somebody
18 [encore break]
19 You're Too Weird
20 The Ruminant Band
If you enjoyed this recording, PLEASE SUPPORT Fruit Bats, visit their website, and purchase their records from their online store [HERE]