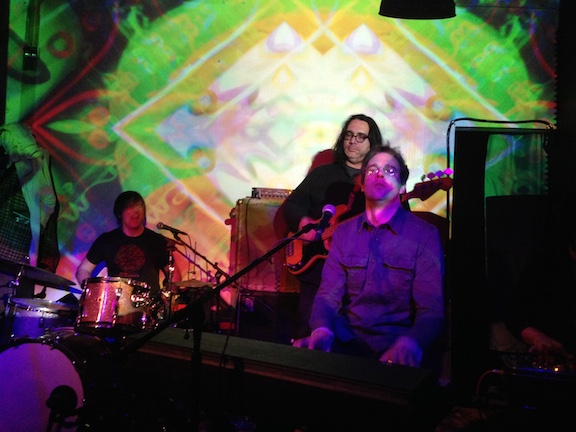 The set you're about to hear—or are already listening to depending on the order of things—is the seventeenth Oneida show posted here on NYCTaper. Without actually doing the legwork, I'm going to go ahead and assume they're this site's most recorded band. We've seen all types of Oneida shows. Full album performances. Early AM sets accompanied by pancakes. Literally hours-long sets of improvised jams. This one from Palisades is probably the shortest we've seen from Oneida, but what it lacks in length it more than makes up for in energy. Like other recent shows, they open with "Cedars" running straight into "Economy Travel." The transition between the two songs has become so seamless that you barely realize it's happened and by the time you do you're deep into the latter song with little memory of how you arrived. New here is their cover of This Heat's "S.P.Q.R." A mostly literal cover of the original, it is furiously out of breath, tripping over itself, it's center of gravity far out in front. If there's any band that could do this one justice it's Oneida. Lastly, the Hanoi Jane-sung battle cry "Cock Fight" closes out the set. Convinced it's Friday (it was Saturday) Jane offers to take us into the weekend with one last jam. Whatever the day, the journey took us somewhere unexpected and we were different than when we had left.
I recorded this set in the same manner as the Chris Forsyth one from the same night, with the AKG's in front of the soundboard and pointed at the right stack plus a soundboard feed from Palisades FOH Ariel. The sound is excellent. Enjoy!
Download the complete show: [MP3] | [FLAC]
Stream the complete show:

Note: All of the material on this site is offered with artist permission, free to fans, at our expense. The only thing we ask is that you download the material directly from this site, rather than re-posting the direct links or the files on other sites without our permission. Please respect our request.
Oneida
2015-01-10
Palisades
Brooklyn, NY
Exclusive download hosted at nyctaper.com
Recorded and produced by Eric PH
Soundboard (engineer: Ariel) + AKG C480B/CK61 > Roland R-26 > 2xWAV(24/48) > Adobe Audition CC (align, mixdown) > Izotope Ozone 5 (EQ, exciter, imaging) > Audacity 2.0.5 (amplify, fades, downsample, dither, tracking, tagging) > FLAC (level 8)
Tracks [28:58]
01. Cedars
02. Economy Travel
03. S.P.Q.R. [This Heat]
04. Cock Fight
If you enjoyed this recording, PLEASE SUPPORT Oneida. Visit their website, like them on Facebook, and buy A List of the Burning Mountains from Jagjaguwar.