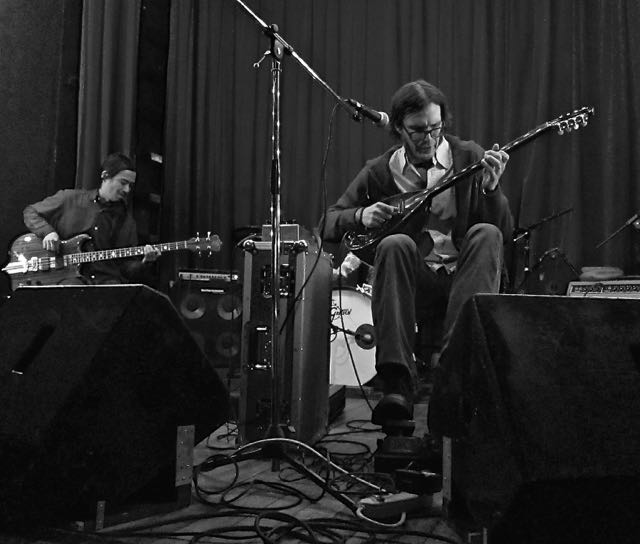 The other times we've seen Rhyton, the sets have tended toward new or unreleased material. That made this outing at Union Pool all the more of a treat, as we were introduced to three selections of brand-new material from their third record, Kykeon. The show kicked off with the Mediterranean flavor of "Topkapi" which featured frontman/guitarist Dave Shuford rocking the bouzouki, a Greek folk instrument that Shuford demonstrated his mastery of on his album Arghiledes. Kykeon means "to mix" in Greek, we're told on Thrill Jockey's page, and that's exactly what these songs felt like, as we got to hear "Siren in Byblos" and the "disco mix" of "Pannychis", which built on some of "Topkapi's" themes but expanded to surf and even vaguely pop (by Rhyton's standards) motifs. Judging one piece of the Rhyton work against another is difficult, as the crew's material is so varied, but this set represented some of the band's most accessible work to date, and arguably some of their very best.
You can catch Rhyton tomorrow night at Trans-Pecos at 8 p.m. Be there.
I recorded this set in our usual manner for the venue, with Schoeps MK4V microphones and a soundboard feed by the house engineer, Robb. The sound quality is excellent. Enjoy!
Download the complete show: [MP3] | [FLAC]
Stream the complete show:

Rhyton
2014-12-10
Union Pool
Brooklyn, NY USA
Exclusive download hosted at nyctaper.com
Recorded and produced by acidjack
Soundboard + Schoeps MK4V>KCY>Z-PFA>Sound Devices USBPre2>>Edirol R-44 [OCM]>2x24bit/48kHz WAV>Adobe Audition CS 5.5 (align, mix down, compression)>Izotope Ozone 5 (EQ, exciter, stereo image)>Audacity 2.0.3 (tracking, amplify, balance, downsample)>FLAC ( level 8 )
Tracks
01 Topkapi
02 Siren in Byblos
03 Pannychis (Disco Mix)
If you enjoyed this set, PLEASE SUPPORT Rhyton, visit their website, and buy Kykeon and their other records from Thrill Jockey Records.