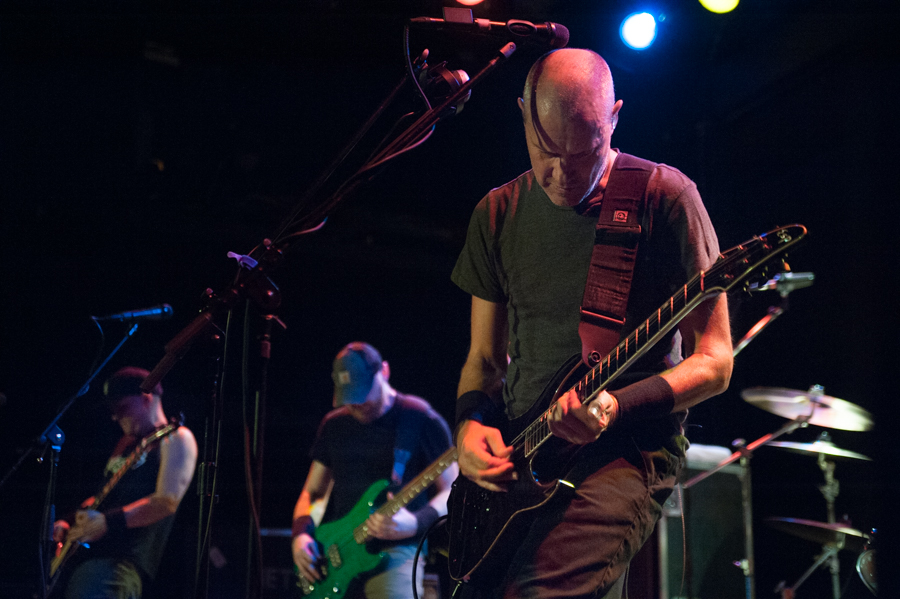 [Photos from the February 18th show courtesy of Brian Reilly for Bowery Presents]
It was a few decades ago that a friend of mine happened to spin Helmet's landmark 'Betty' album for me and set the hook for my enthusiasm for this band.  Now touring to honor the 20th anniversary of this record, these dates include a front-to-back playing of it as well as a second set drawing from their vast catalog of songs.  In a day and age where a number of bands are doing this, the kicker is that 'Betty' is an amazing album and easily made it onto my personal list of "desert island discs" some time ago.  The second of three very sold-out NYC area shows (the recording from the Saint Vitus gig is HERE) found Helmet firing on all cylinders.  Frontman Page Hamilton has surrounded himself with a roster of superb musicians (drummer Kyle Stevenson, guitarist Dan Beeman and bassist Dave Case) and these concerts showcased a very well rehearsed and tight group that obviously have the chops to play anything you can throw at them.  In addition to fielding a few crowd requests, Helmet dug out some deep cuts including "Impressionable", "Repetition" and fan-favorite, "Sinatra".  In a nutshell, they sounded fantastic and more than lived up to the legacy of this material.
With Helmet's soundman, Rubes, at the board with assistance from Bowery Ballroom's FOH, Kenny, the venue's sound on this night was, as we've come to expect, great.  Combining our microphones with the soundboard feed that Page asked us to use, our recording is excellent.  We hope you like what you hear as much as we did.  Enjoy!
Special thanks to Helmet, Brian and Chad at Maine Road, and Kieran and the staff at Bowery Ballroom for making this recording possible and for their courtesy and cooperation.
Stream "Rollo":

Stream "Give It":

Direct download of the complete show in MP3 [HERE]
Direct download of the complete show in FLAC [HERE]
If any of the links are no longer working, email nyctaper with a request for the download location of the files.
Follow Johnny Fried Chicken Boy on Twitter
Note: All of the material on this site is offered with artist permission, free to fans, at our expense.  The only thing we ask is that you download the material directly from this site, rather than re-posting the direct links or the files on other sites without our permission.  Please respect our request.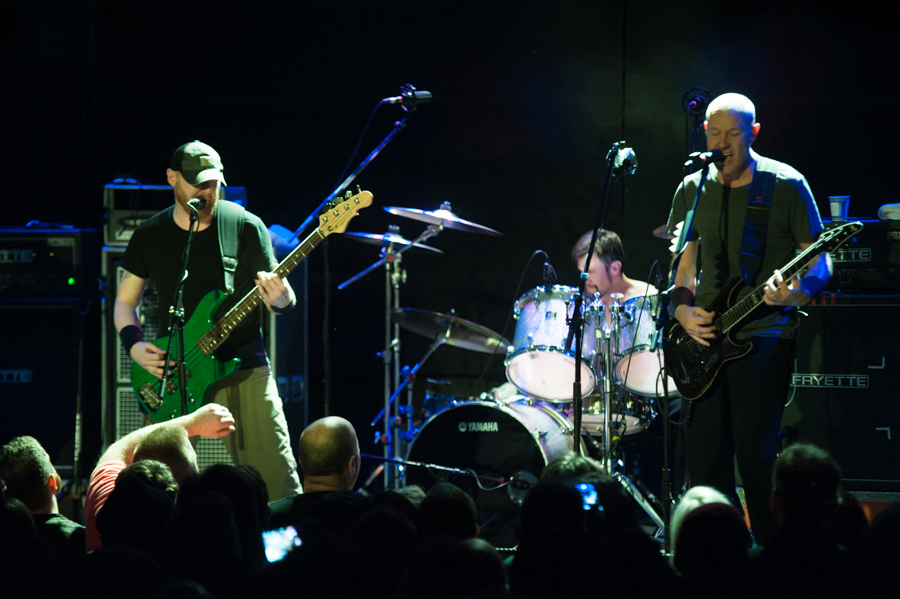 Helmet
Saturday, February 21, 2015
Bowery Ballroom
New York, NY, USA
Source: Milab VM-44 Links (cardioid) + SBD > Edirol R-44 (WAV @ 24-bit/48kHz)
Lineage: R-44 > PC > Adobe Audition (mixdown, downsample, dither, tracking) > WAV (16-bit/44.1kHz) > TLH (check/fix SBEs, FLAC conversion) > FLAC (level 8)
Recorded and produced by: Johnny Fried Chicken Boy
SETLIST:
[Total time: 1:40:20]
01. Wilma's Rainbow
02. I Know
03. Biscuits for Smut
04. Milquetoast
05. Tic
06. Rollo
07. Street Crab
08. Clean
09. Vaccination
10. Beautiful Love
11. Speechless
12. The Silver Hawaiian
13. Overrated
14. Sam Hell
15. [band intros / banter1]
16. (High) Visibility
17. Role Model
18. FBLA II
19. [banter2]
20. Welcome To Algiers
21. Birth Defect
22. Broadcast Emotion
23. Unsung
24. [banter3]
25. White City
26. Impressionable
27. [banter4]
28. Give It
29. [encore break / Sinatra intro]
30. Sinatra
31. [banter5]
32. Repetition
33. In the Meantime
If you download this recording, we expect that you will PLEASE SUPPORT Helmet, visit their website and Facebook page, and purchase their official releases and merchandise [HERE] at Amazon, iTunes, or your favorite record store or retailer.  And definitely go see Helmet live.