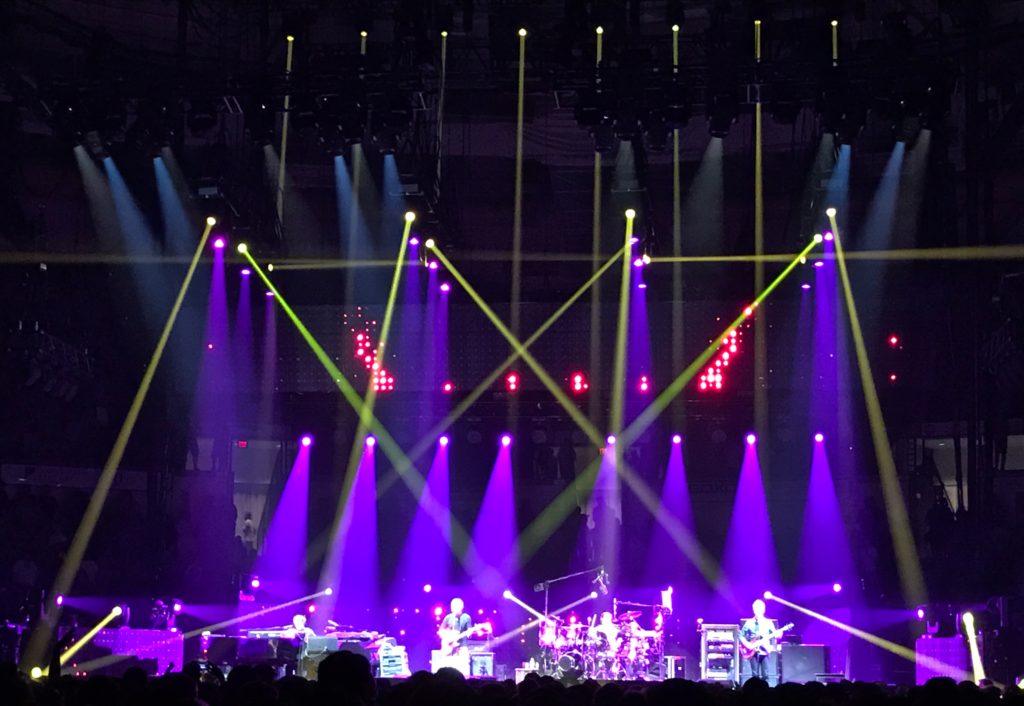 Whether this second night of Phish's 2016 fall run appealed to you or not, it wasn't a night for the fans who love the big rockers, or the hits. It's no surprise that the band's latest album Big Boat saw heavy representation, including a debut of "I Always Wanted It This Way." There's considerable pressure on acts in the fourth decade of their career to "play the hits," and while Phish may not have "hits" in the same way as some other bands, they still have those tour staples that the fans expect to see in regular rotation. While those classics were present from time to time in this set — "Maze," "Wolfman's Brother," "Possum," "Twist," and "Carini," for example — the songs just named were about it. If the band wanted to send the message that "Phish 3.0" still believes that it has new music worth making, they did that on this night.
Any Phish show is likely to have its fanboys and its detractors, and part of the fun of a band like this is that one person's relative bummer of a set can fall firmly in another dozen's wheelhouse. That said, people who have attended far more shows than I have can better describe the alchemy of a transcendent Phish set, and most longtime fans I spoke with admitted that this unevenly-paced one at the North Charleston Coliseum didn't quite have it. It's not unfair to say that some of these Big Boat and Fuego songs need more road time to come into their own, though the saccharine "Joy" has had since 2009 and doesn't seem likely to. In addition to the selection of material, there was the pacing, as the first set started off with a string of mostly-mediocre material before "Maze" came along to refocus everyone's attention. Even a solid "Carini" (though marred by childish screaming during the chorus) couldn't quite make that first set make sense, especially as it was led into by the gimmicky, off-key and quite frankly annoying "Ass Handed" interlude.
The second set overall was much better, with the non-album track "Mercury," leading off as an absolute highlight, followed by "Twist" into the extremely strong debut of "I Always Wanted It This Way." The proggy, synth-led track felt like the kind of new music you hope a band makes at this point in their career, representing such an evolution that it made the song feel like a familiar-sounding cover. Unfortunately, things went back off the rails after that, as the buzz-killing "Miss You" was followed by the milquetoast "Fuego." After a killer "Sand" put things back on the right track, we got plunged back into ballad territory with "Joy" before "Possum" closed things out on a high note. The one-song encore nodded toward another of the band's strongest traits, as they delivered a rollicking "Good Times, Bad Times," that found Trey taking his best shot at Robert Plant and Jimmy Page at once.
Nonetheless, there's plenty to like about this tour so far. Mainly because it's not a greatest-hits tour–this band is actually trying to make something new, after all this time. If this part of the tour has a few stutter-steps, or a few shows that are slightly less-than, you still have to reward this band for being what it is. For trying.
I recorded this set at the soundboard with Schoeps MK41V supercardiods into an Aeta PSP3 preamp. The right channel of "Blaze" was patched from the left channel during most of the song, but the remainder of the show's sound quality is excellent. Enjoy!
Download the complete show: [MP3/FLAC/ALAC]
Stream the complete show:

Phish
2016-10-15
North Charleston Coliseum
Charleston, SC USA
Recorded and produced by acidjack
Schoeps MK41V>KC5>CMC6>Aeta PSP3>Roland R-26>24bit/48kHz WAV>Audacity (patch right channel for 4min of first song, fades, track, amplify, downsample, dither)>FLAC ( level 8 )
Tracks [Total Time 2:40:23]
Set I
01 Blaze On
02 What's the Use?
03 Martian Monster
04 Devotion to a Dream
05 Waking Up Dead
06 Timber [Josh White]
07 Things People Do
08 Let Me Lie
09 Maze
10 Ass Handed
11 Carini
12 Wolfman's Brother
Set II
13 Mercury>
14 Twist
15 I Always Wanted It This Way
16 Miss You
17 Fuego>
18 Sand
19 Joy
20 Possum
Encore
21 Good Times Bad Times [Led Zeppelin]