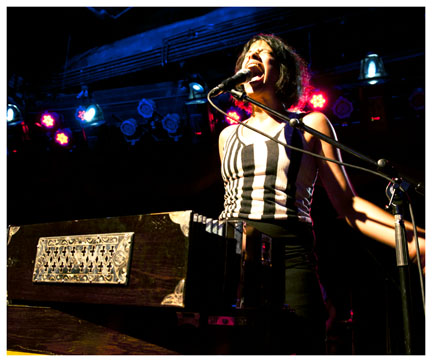 [photo courtesy of Carly Sioux]
In a venue that sometime can feel like an advertisement for attention deficit disorder, on Friday night Shilpa Ray used her tremendous stage energy to cut through the Brooklyn Bowl distractions to deliver an outstanding set. With Jack White and a sixteen person entourage bowling in one corner, sports fans watching the Knicks on the large screen tv in another corner, and the floor of the venue filled with the persistent din of chatter, the venue did not offer an easy task for the live performers. But it was the night of her CD release party, and Shilpa was not to be denied. As she opened the set with "Beating St. Louis", her powerful voice cut through the din and demanded attention. The show was propelled by seven straight songs before Shilpa came up for a breath after "Stick It To The Woman", by which time she had the rapt attention of at least the front half of the crowd. The set consisted of the entire new album — Teenage & Torture was released Tuesday on Knitting Factory Records, with some older material sprinkled in. The encore segment began with a musically perfect cover of Pink Floyd's The Wall anthem "In The Flesh" (streaming below) and continued with a cover of Red Kross. The show's closing song was an extended version of "Genie's Drugs" that ended the night on another high note.
I recorded this set with the hypercard Neumanns on a 14 foot stand from in front of the soundboard and mixed with a well-balanced feed from the board. The mix is 2/3 board, since the audience recording is marred by the high volume of the persistent din of the crowd. Overall, the final result is an excellent recording. Enjoy!
Stream "Venus Shaver":
Audio clip: Adobe Flash Player (version 9 or above) is required to play this audio clip. Download the latest version here. You also need to have JavaScript enabled in your browser.
Stream "In The Flesh" (Pink Floyd cover):
Audio clip: Adobe Flash Player (version 9 or above) is required to play this audio clip. Download the latest version here. You also need to have JavaScript enabled in your browser.
Direct download of complete show in MP3 files (HERE)
Download the Complete show in FLAC [HERE].
Shilpa Ray and Her Happy Hookers
2011-01-21
Brooklyn Bowl
Brooklyn, NY USA
Digital Master Recording
Soundboard + Audience Matrix
Soundboard + Neumann KM-150s > Edirol R-44 (Oade Concert Mod) > 2x 24bit 48kHz wav files > Soundforge (level adjustments, mixdown, set fades) > CDWave 1.95 (tracking) > Flac Frontend (level 7, align sector boundaries) > flac
Recorded and Produced by nyctaper
2011-01-23
Setlist:
[Total Time 1:15:01]
01 Beating St. Louis
02 Heaven In Stereo
03 Venus Shaver
04 Erotolepsy
05 Pop Song For Euthanasia
06 Requiem In A Key I Don't Know
07 Dames A Dime A Dozen
08 Stick It To The Woman
09 [banter]
10 Liquidation Sale
11 [banter2]
12 [new solo song]
13 Hookers
14 [banter3]
15 The Chelsea Clinic Physical
16 [encore break]
17 In The Flesh [Pink Floyd]
18 Neurotica [Red Kross]
19 [banter4]
20 Genie's Drugs
21 [outro]
If you email nyctaper for access to this recording, we expect that you will PLEASE SUPPORT Shilpa Ray and Her Happy Hookers, visit their website, and purchase the new album Teenage & Torture from Knitting Factory Records [HERE].