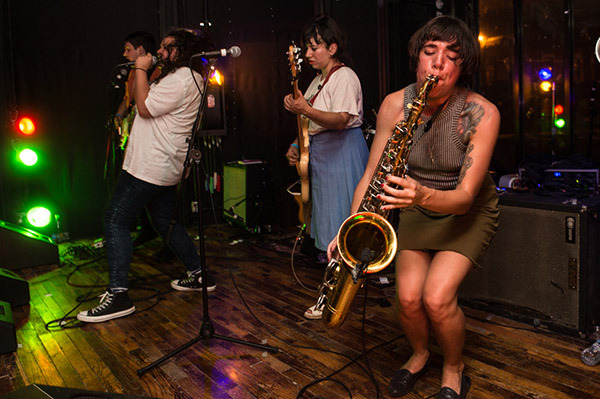 [photo by Chona Kasinger – originally posted at Bandcamp Daily]
Its been a very discouraging year for forward-looking people. Tonight begins the tacky celebration of the nomination of a vulgar racist xenophobe of a major political party for President of the United States. Its as if for the next three days, forty percent of the country will be giving a massive middle finger to people of color, and anyone with a conscience and a sense of justice feels helpless.
The question then becomes what can we do. If you're a group of young multicultural people from Providence Rhode Island, you form a punk band with a message — that hatred and xenophobia are things of the past and we, a "bi bilingual political dance sax punk party" are here, and we are the future. Downtown Boys are certainly a breath of fresh air in this toxic world. The band's themes of inclusion and acceptance within the realm of punk (with a sax!) isn't particularly a new idea, but add in bi-lingual lyrics and LGBT elements, and the idea of the perfectly integrated musical act becomes closer to realization. That the band executes their message with energy and commitment makes their music all the more compelling.
The Downtown Boys show at Market Hotel was one of those nights that won't soon be forgotten. The band's increased popularity brought out a truly diverse crowd, and given the Market's goal of providing a community of musical performances of diverse styles and backgrounds, the band represented an inspiring coupling of ideals. In 2015 Downtown Boys signed with the most excellent Don Giovanni Records and released Full Communism to universally positive reviews. Its an encouraging development for the band that their call for human rights is reaching a larger and more accepting audience. At the Market, the set saw the performance of most of Full Communism, a few older tracks, and what I believe are six new songs that hopefully portends a 2016/2017 new album from Downtown Boys.
Downtown Boys return to NYC for a show at Studio at Webster Hall on September 16.
I recorded this set with the installed AT mics mixed with an excellent board feed. The sound is live and raucous and in the moment and totally excellent. Enjoy!
Download Complete Show [MP3] / [FLAC]
Stream the Complete Show:

Downtown Boys
2016-06-24
Market Hotel
Brooklyn NY
Digital Master Recording
Soundboard + Upfront Audience
Soundboard [Engineer: Jason Kelly] + Audio Technica 4051 > Sound Devices 744t > 2 x 24bit 48kHz wav files > Soundforge (level adjustments, mixdown, set fades) > CDWave 1.95 (tracking) > TLH > flac (320 MP3 and tagging via Foobar)
Recorded and Produced
by nyctaper
Setlist:
[Total Time 52:08]
01 Future Police
02 Haz Algo
03 Wave of History
04 Tonta
05 One Hundred Percent Inheritance Tax
06 Santa
07 Maldito
08 [Poder intro]
09 Poder Elegir [Los Prisioneros]
10 Callate
11 It Can't Wait
12 Slumlord Sal
13 [banter – power]
14 Clara
15 Lola
16 Dancing In The Dark [Springsteen]
17 Cost of Living
18 [banter – thanks]
19 Break A Few Eggs
20 Monstro
Support Downtown Boys: Bandcamp | Facebook | Don Giovanni Records Page