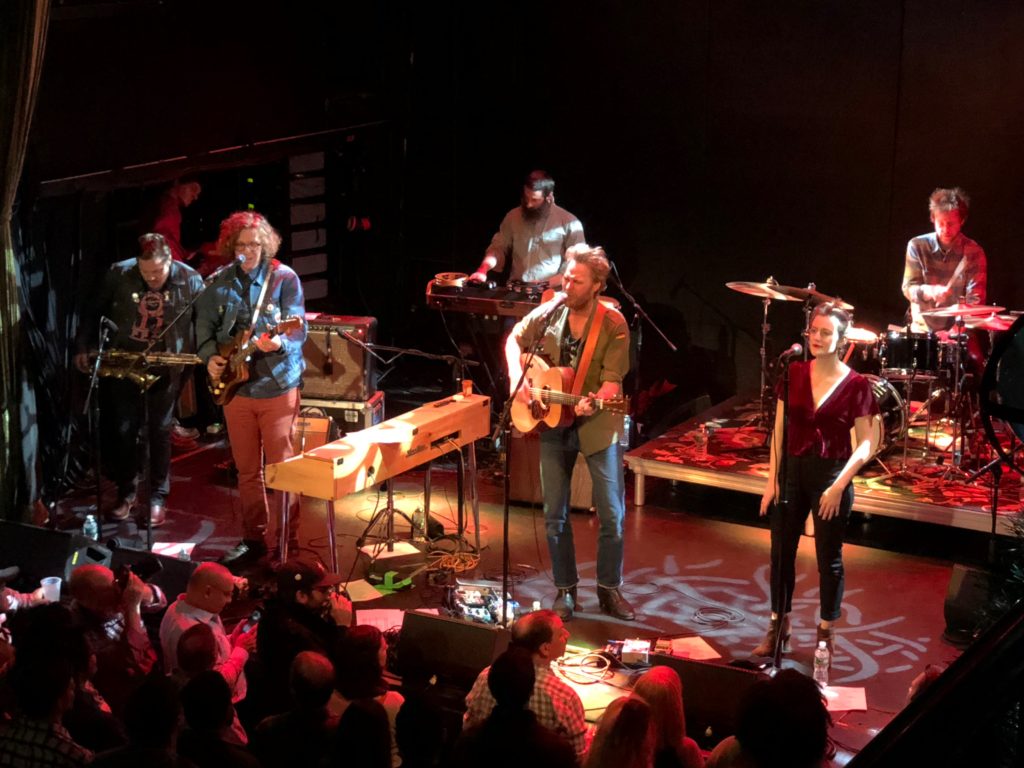 Hiss Golden Messenger's second night at The Bowery Ballroom not only picked up where the first two-hour show left off, but gathered steam. If the first night–in front of a slew of friends and local musicians–felt like a more intimate, freewheeling affair, this show situated the current version of the band as the confident rock n' roll outfit they are, playing about fifty percent different material from the first show, improving on several of the repeats, and delivering crowd-pleasing covers that are red meat to a weekend crowd. After opening with the contemplative "When the Wall Comes Down" from Hallelujah Anyhow, the tempo picked up and stayed hot through the first hour. I was moved by this version of "Blue Country Mystic," which hewed closer in tempo and style to the Poor Moon original than some of the recent versions I've seen, and likewise, the "Red Rose Nantahala" we saw both tonight and the night before felt closer to the version from Haw than some of the recent versions we've heard. The new songs haven't given the band as many chances at new arrangements, but it's safe to say that "Like A Mirror Loves A Hammer," shows great potential as a mid-set jam song.
After a heartfelt mid-set version of "Caledonia, My Love" — introduced by Phil Cook as his favorite HGM song — it was back to the rock, with the band letting loose with a fine cover of "I Won't Back Down" followed by "Lost Out In the Darkness" and the party jam "I'm A Raven (Shake Children)." This is a band that knows their crowd, and the upbeat rockers matched the mood in the room, as the weekend warriors and the repeat customers from last night both had come ready to celebrate the weekend and the band's success. Instead of last night's heartfelt retelling of the band's origin story, we got some hilarious riffs about the band's long night out last night, including an encounter with some pretzel chips. But if they were physically running on fumes, HGM didn't show it. If anything, I found most versions of what they played even sharper and more emphatic than the previous show. In lieu of an encore break, the band accepted some pretzel chips from a fan and passed them around the crowd, ending the night with Pops Staples' "Friendship" followed by "Drum." This wasn't quite the end of HGM year — they headed to Philly the following night, and D.C. after that — but it felt valedictory nonetheless, an exclamation point on a year well spent.
I recorded this set in the same manner as the previous night, with a soundboard feed from the band's engineer Tim and Schoeps MK22 microphones. The sound quality is excellent. Enjoy!
Download the complete show: [MP3/FLAC/ALAC]
Hiss Golden Messenger
2017-12-08
The Bowery Ballroom
New York, NY USA
Exclusive download hosted at nyctaper.com
Recorded and produced by acidjack
Schoeps MK22 (at SBD, PAS bar)>KCY>Z-PFA + Soundboard (engineer: Tim)>Sound Devices MixPre 6>24/48 WAV>Adobe Audition CC (align, mix down, limiter)>Izotope Ozone 5 (EQ, effects)>Audacity 2.0.5 (track, amplify)>FLAC ( level 8 )
Tracks [Total Time 2:02:30]
01 When the Wall Comes Down
02 Saturday's Song
03 Jenny of the Roses
04 [banter1]
05 Biloxi
06 Gulfport You've Been On My Mind
07 Blue Country Mystic
08 Mahogany Dread
09 Don't Let Me Down [Beatles]
10 Like A Mirror Loves A Hammer
11 Red Rose Nantahala
12 [banter2]
13 Highland Grace
14 [banter3]
15 Caledonia, My Love
16 Domino
17 I Won't Back Down [Tom Petty]
18 Lost Out In the Darkness
19 I'm A Raven (Shake Children)
20 I Am the Song
21 [banter4-band intros]
22 Southern Grammar
23 [banter5]
24 John the Gun
25 [pretzel break]
26 Friendship [Pops Staples]
27 Drum
Band:
M.C. Taylor – vocals, guitar
Phil Cook – keyboards, harmonica
Mike Lewis – saxophone
Skylar Gudasz – vocals
James Wallace – organ, percussion
Ryan Gustafson – guitar
Michael Libramento – bass
Darren Jesse – drums
PLEASE SUPPORT Hiss Golden Messenger: Website | Twitter | Buy Hallelujah Anyhow