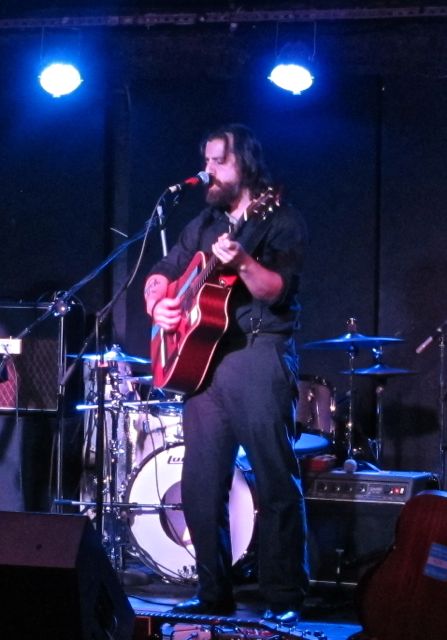 [Photos by acidjack]
Sean Rowe has that kind of deep, bone-shaking voice that sticks with you; the dark, harrowing type that gives voice to a thousand souls. Born and raised in upstate New York, Rowe has been kicking around there for awhile, doing his thing in local bars and clubs, playing to whoever will listen. In a welcome development, ANTI Records picked him up a few years ago and re-released his first solo album, Magic.  Since then, he has enjoyed a wider audience, and this show at Mercury Lounge found Sean on the cusp of his second ANTI release, The Salesman and the Shark, which drops at the end of this month. Joined onstage by Sarah Pedinotti from Railbird on keys, Rowe showcased several new songs from Salesman as well as some truly classic covers.
Magic reflected Rowe's other main passion, being a naturalist, and was the result of 24 days spent foraging in the wilderness. Based on what we were previewed at this show, Salesman will be another dramatic artistic statement, with songs like "Joe's Cult" evoking some of rock and folk's most cherished vocalists. You can imagine Rowe sharing the stage with any number of great artists: Tom Waits, Bob Dylan, Steve Earle, Johnny Cash, were he still with us. Rowe's baritone has a timeless, evocative quality, and that made his covers at this show as memorable and true as his originals.  Because everything has to have a label to hang it on, PR people have taken to calling this "alt-folk", and maybe, as the work of an accomplished woodsman with a love and respect for the outdoors, that makes some sense. But I don't think Rowe is trying to be the "alternative" to anything; his music is classic, as well as relevant. Although, in fairness to the "alt" tag, he had a bit of fun with us at the end with his cover of the Violent Femmes' "Gone Daddy Gone" – an 80s staple that, like Rowe's own music, wears awfully well.
Rowe will be performing two NYC shows in September – on the 19th at Mercury Lounge, and on the 20th at Brooklyn Bowl.
I recorded this set with Schoeps MK41 microphones and an excellent soundboard feed from Kevin, the head engineer at Mercury.  Like the Field Report recording from this same night, it is outstanding in quality.  Enjoy!
Stream "Joe's Cult"

Audio clip: Adobe Flash Player (version 9 or above) is required to play this audio clip. Download the latest version here. You also need to have JavaScript enabled in your browser.
Stream "Jesus Gonna Be Here [Tom Waits]"
Audio clip: Adobe Flash Player (version 9 or above) is required to play this audio clip. Download the latest version here. You also need to have JavaScript enabled in your browser.
Direct download of MP3 files [HERE] | Direct Download of the FLAC files [HERE]
Follow acidjack on Twitter
Note: All of the material on this site is offered with artist permission, free to fans, at our expense. The only thing we ask is that you download the material directly from this site, rather than re-posting the direct links or the files on other sites without our permission. Please respect our request.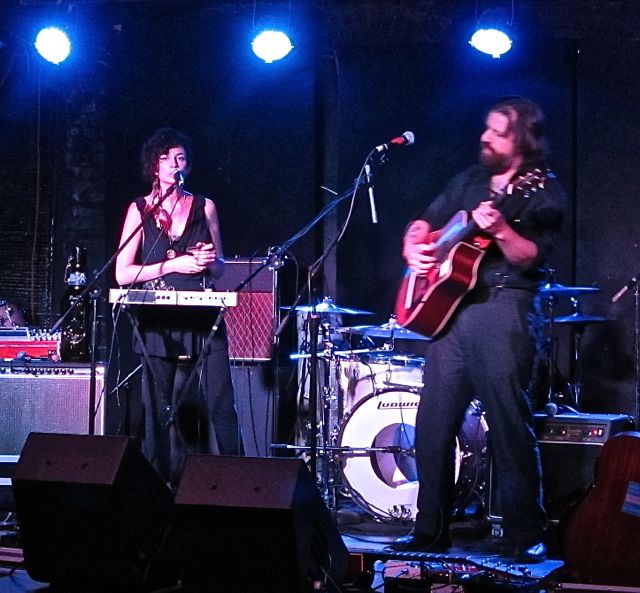 Sean Rowe
2012-07-21
Mercury Lounge
New York, NY USA
Exclusive download hosted at nyctaper.com
Recorded by acidjack and Johnny Fried Chicken Boy
Produced by acidjack
Soundboard + Schoeps MK41>CMC6>Sound Devices USBPre2 >> Edirol R-44 [OCM]>2x24bit/48kHz WAV>Audacity (mixdown)>Izotope Ozone 5 (various)>Audacity (set fades, tracking, amplify, balance, downsample)>FLAC ( level 8 )
Tracks
01 Flying
02 Bird On A Wire [Leonard Cohen]
03 [banter]
04 Joe's Cult
05 [banter]
06 The Walker
07 Jesus Gonna Be Here [Tom Waits]
08 To Leave Something Behind
09 Gone Daddy Gone [Violent Femmes]
If you enjoyed this recording, please support Sean, visit his website, and pre-order The Salesman and the Shark from ANTI Records [HERE].