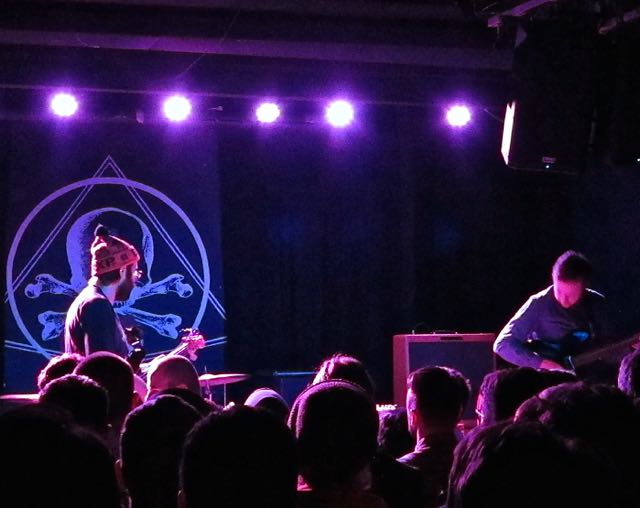 This Will Destroy You, of San Marcos, TX, just crossed the decade mark as a band last year, with the excellent record Another Language. In the broad sense, they share company with the dynamic instrumental bands that get lumped together as "post-rock" — Mogwai, Explosions In the Sky, Caspian, etc. But if this two-night stand of shows presented by BrooklynVegan at Saint Vitus proved anything, it's that they don't let labels stop them. Saint Vitus, best-known as NYC's destination for the heaviest of heavy music, made a good fit for the band, as they led off with the thunderous "Little Smoke" that pummeled us from start to finish. TWDY may not be a black metal band, but their sonics are definitely toward the darker end of the spectrum, a kind of soundtrack to the end of the world.
But just when you think you're going to get nothing but 80 minutes of soft-loud dynamics and blaring guitars, TWDY changes things up. Bursts of electronics seep in, between the ratcheting drumbeats and the mournful guitars of "A Three-Legged Workhorse". Or there's "Grandfather Clock", basically a full-on IDM track, followed by the texturally dense standout track from Another Language, "Dustism". But if the band proved there was more to them than just getting loud, when they were loud, they made it count, as on the climax to "Black Dunes" or "There Are Some Remedies Worse Than The Disease". This show ran a touch longer than the previous night's effort, closing with the ironically-titled "Quiet". This burner of a Friday night show had been anything but.
I recorded this set with Schoeps MK4V cardiod microphones and a soundboard feed of the mix by TWDY's engineer (if you have his name, please give him a shout out). As with everything at Saint Vitus, the sound quality is outstanding. Enjoy!
Download the complete show: [MP3] | [FLAC]
Stream the complete show:

Video of the complete show:

This Will Destroy You
2015-02-27
St. Vitus
Brooklyn, NY USA
Exclusive download hosted at nyctaper.com
Recorded and produced by acidjack
Schoeps MK4V (LOC, at SBD, PAS)>KCY>Z-PFA>Sound Devices USBPre2 + Soundboard (engineers: Nick + TWDY's engineer (please provide name if you have it))>>Edirol R-44 [OCM]>2x24bit/48kHz WAV>Adobe Audition CS 5.5 (align, mix down, adjust levels)>Izotope Ozone 5 (harmonic exciter, EQ, imaging)>Audacity 2.0.3 (track, amplify, balance, downsample, dither)>FLAC ( level 8 )
Tracks [Total Time 1:23:24]
01 Little Smoke
02 A Three-Legged Workhorse
03 War Prayer
04 Burial On the Presidio Banks
05 Grandfather Clock
06 Dustism
07 Black Dunes
08 There Are Some Remedies Worse Than the Disease
09 Communal Blood
10 [banter]
11 New Topia
12 Quiet
If you enjoyed this recording, PLEASE SUPPORT This Will Destroy You, visit their website, and buy Another Language here.