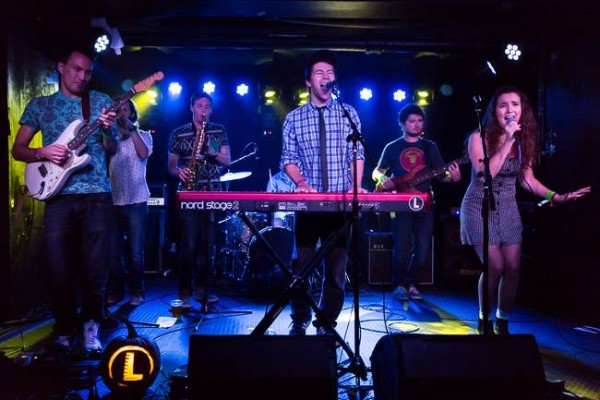 [photo from Lawrence Facebook page]
Lawrence the band is co-led by a brother and sister duo, Clyde Lawrence and Gracie Lawrence. In a true display of the idea that talent is genetic, both Lawrence siblings have been accomplished performers for the majority of their short lives. Clyde Lawrence is on record as the youngest member ever of the Songwriters Guild (SGA), having written a song for a major motion picture at the ripe age of six. Clyde continued to write songs for movies throughout his teens and indeed wrote the complete score for the 2014 film The Rewrite, starring Hugh Grant and Marisa Tomei. Gracie Lawrence has been in several movies and indeed appeared on Broadway in Brighton Beach Memoirs. She has pages on the Playbill Vault, Wikipedia and IMDb and she is only eighteen years old.
At Mercury Lounge in December, the band previewed much of their upcoming debut album. The record was produced by Eric Krasno of Soulive and is expected to be released in February. Lawrence is going on tour throughout February (dates here), which culminates in the record release show at Webster Hall's Marlin Room on February 18.
I recorded this set in our usual manner at Mercury — Schoeps on a stand at the board and mixed with an excellent feed provided by house FOH Alex. The crowd was a bit boisterous on this late weekend night but overall it just adds some authenticity to the recording, which otherwise sounds quite excellent. Enjoy!
Download the Complete Show [MP3] / [FLAC]
Stream the Complete Show:

Lawrence
2015-12-05
Mercury Lounge
New York NY
Digital Master Recording
Soundboard + Audience Matrix
Soundboard [engineer Alex] + Schoeps CCM4u Cardioids > Sound Devices 744t > 2 x 24bit 48kHz wav files > Soundforge (post-production) > CDWave 1.95 (tracking) > TLH > flac (320 MP3 and tagging via Foobar)
Recorded and Produced by nyctaper
Setlist:
[Total Time 1:09:01]
01 High Road
02 Wake Up
03 Alibi
04 [banter – Justin Ryan intro]
05 So Damn Fast
06 Me and You
07 Where It Started From
08 Superficial
09 [untitled new song – Missing You]
10 Get Busy [Sean Paul]
11 Cold
12 Play Around
13 [new song – Shine]
14 Say My Name [Destiny's Child]
15 [band introductions]
16 Do You Want To Do Nothing With Me
17 [encore break]
18 Wash Away
19 Hot In Herre [Nelly]