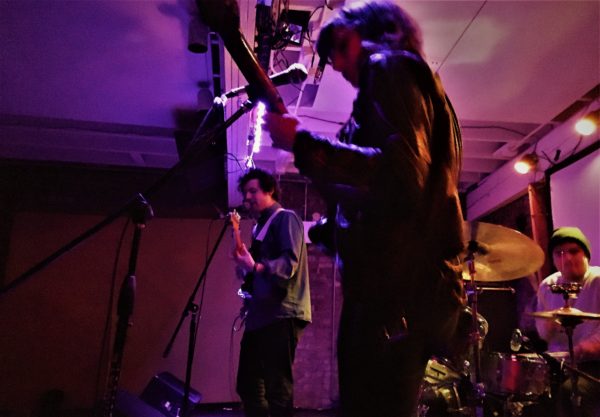 One of the sleeper singles early in this year was the oddly titled "Clutching the Straw Map to Your Heart" (Seagreen Records) from the mysterious quartet Holy Tunics. This three-minute nugget came from a band who didn't spend much time promoting themselves and about whom there wasn't much information on the web. Whether the mystery was intentional or not, the song perked up ears at places like Impose Magazine, Cereal + Sounds and Breakthrough Radio.
This December saw the release of Holy Tunics' first EP Hot To Trot, which contains "Straw Map" but also five other new songs and frankly its one of the best collections of music I've heard all year. The band celebrated the release with a headlining show at Sunnyvale last weekend and revealed another mystery — that the personnel listed on the Bandcamp page for the EP isn't necessarily the live band. Nick Rogers is front and center and Matt Billington is the bass player, but for this night Ana Asnes Becker from Fruit & Flowers played lead guitar and Brian Alvarez played percussion. The set consisted of four of the six tracks from the EP and what appears to five new songs that we are guessing are targeted towards the band's first full length. This Holy Tunics set was bubbling with energy and was buoyed by the serious quality of the songcraft. We expect big things from this band, and we will certainly see more of them on these pages.
Holy Tunics perform again at Shea Stadium on January 14, as support for a reunion gig of our old friend Shark?.
I recorded this set with the Schoeps at the stage lip and mixed with a fine board feed from house FOH Tim. The sound quality is quite excellent. Enjoy!
Download the Complete Show [MP3] / [FLAC]
Stream the Complete Show:

Holy Tunics
2016-12-11
Sunnyvale
Brooklyn NY
Digital Master Recording
Soundboard + On-Stage Audience Matrix
Soundboard [Engineer Tim] + Schoeps CCM4u's > Sound Devices 744t > 2 x 24bit 48kHz wav files > Soundforge (post production) > CDWave 1.95 (tracking) > TLH > flac (320 MP3 and tagging via Foobar)
Please support this excellent band:
https://holytunics.bandcamp.com/releases
Recorded and Produced
by nyctaper
Setlist:
[Total Time 34:04]
01 Forget Your Love
02 Hot to Trot
03 Tell Me True
04 Poets Laugh
05 Clutching the Straw Map to Your Heart
06 Fabric
07 Limelights
08 Happy Sunday
09 Notes from Captivity
Support Holy Tunics: Bandcamp | Facebook | Seagreen Records