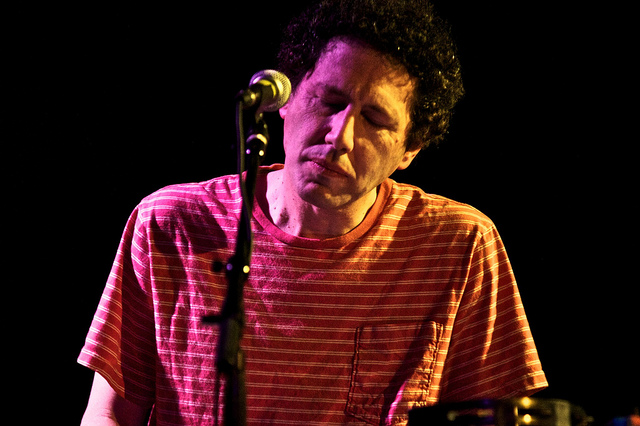 [Photo from the 5/10 show courtesy of Chris Gerbeck at fucking nostalgic]
After an epic Tuesday night "Spin the Wheel" show that found Yo La Tengo playing a special "Name Game" first set, the second night kicked off with "I'd Like To Buy A Vowel," a new wheel item that requires the band to play only songs of theirs that begin in vowels. In other words, the fans got some great music, but compared to having to, say, perform a classic sitcom, it was a fairly lucky and safe choice for the band. The safe moves ended after that, though, as they kicked off with the punked-up "Artificial Heart" that transitioned seamlessly into their more mellow classic, "Autumn Sweater." From there the band played through the low-key trio of "If It's True," "I'm On My Way" and "Alyda" before kicking the tempo back up with the explosive (and rarely played) "86-Second Blowout" from 1992's May I Sing With Me. After an inspired, noise-drenched "Outsmartener", the band launched into an insane 14-minute version of "I Heard You Looking" that left it all on the stage. It was hard to imagine a band not finishing an entire show, let alone a set, after such a monster performance, but this being Yo La Tengo, they let us come down easy, wrapping up set one with the subdued Lou Reed cover, "It's Alright (The Way That You Live)."
In general, I felt like the sequencing of this show was a slight improvement over the previous night, though we have seen so many Yo La Tengo shows in the past 12 months, it is hard to play favorites. Still, the second set of this show felt incredibly cohesive, kicking off with "Walking Away From You," a 12-minute "More Stars Than There Are In Heaven" and "False Alarm" all presented as a virtually seamless composition. The noisy side of Yo La Tengo has always been my favorite, so this trifecta pushed all the right buttons for me. Set 2 ended with another awesome 23-minute three-song series, of a monster "Big Day Coming" that found Ira in top form on guitar, jamming straight into "Tom Courtenay" and ending with the band's reimagined version of Beach Boys' "Little Honda".
Perhaps feeling sheepish that they hadn't been forced to play anything ridiculously out-of-the-box during their two Brooklyn shows, for the encore, the band decided to play a mini-set of three songs in their alter ego cover band mode, Condo Fucks. As with the first set, the encore ended on a quiet note, with another May I Sing With Me number, "Detouring America With Horns." Few bands get the chance to do truly do whatever the want night after night in front of sell-out crowds, and Yo La Tengo have done everything possible to earn it. No matter how many shows you see, there are always new dimensions, new twists, new laughs, and new songs to be impressed and surprised by, and these two nights exemplified that perfectly.
I recorded this set with the Schoeps microphones running into an ultraquiet digital preamp, combined with an excellent soundboard feed. The results are outstanding. Enjoy!
Stream "86-Second Blowout":
Audio clip: Adobe Flash Player (version 9 or above) is required to play this audio clip. Download the latest version here. You also need to have JavaScript enabled in your browser.
Stream "It's Alright (The Way That You Live) [Lou Reed]":
Audio clip: Adobe Flash Player (version 9 or above) is required to play this audio clip. Download the latest version here. You also need to have JavaScript enabled in your browser.
Direct download of MP3 files [HERE]
Download the Complete show in FLAC [HERE].
Yo La Tengo
2011-05-11
The Bell House
Brooklyn, NY USA
An acidjack master recording
Recorded and produced by acidjack for nyctaper.com
Equipment: SBD+Schoeps Mk41>CMC6>Sound Devices USBpre2>Edirol R-44 [Oade Concert Mod] (24/48)
Position: At soundboard, DFC, mics pointed at stacks
Mastering: 2x24bit/48kHz WAV>Audacity (mixdown, set fades, tracking, smooth peaks, amplify and balance, downsample to 16bit/44.1kHz)>FLAC ( level 8 )
Tracks
Set I: I'd Like To Buy A Vowel
01 Game Show Intro
02 Artificial Heart>
03 Autumn Sweater
04 If It's True
05 I'm On My Way
06 [banter]
07 Alyda
08 86 Second Blowout
09 Outsmartener
10 I Heard You Looking
11 It's Alright (The Way That You Live) [Lou Reed]
Set II
12 Walking Away From You>
13 More Stars Than There Are In Heaven>
14 False Alarm
15 [banter]
16 The Weakest Part
17 [banter]
18 Mr. Tough
19 Satellite>Big Day Coming>
20 Tom Courtenay
21 Little Honda [Beach Boys]
22 [encore break]
Encore: (Mostly) Condo Fucks Set
23 Whatcha Gonna Do [Small Faces]
24 Come On Baby [Young Rascals]
25 Dog Meat [Flamin' Groovies]
26 Detouring America With Horns
If you download this recording from NYCTaper, we expect that you will PLEASE SUPPORT Yo La Tengo, visit their website, visit their MySpace page, and purchase their official releases from the store at their website [HERE].