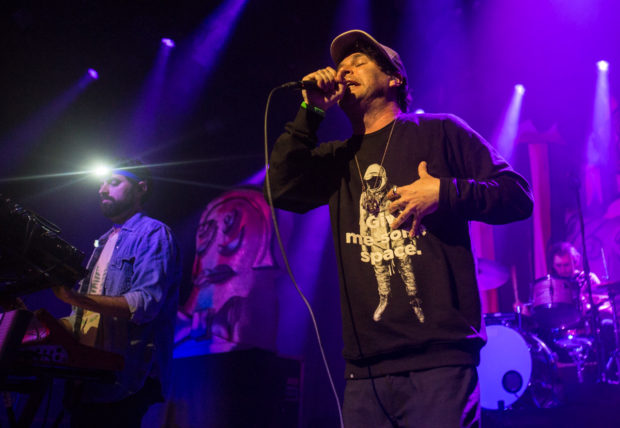 [photos by Will Oliver of We All Want Someone blog]
Last year, I wrote about this site's history with Animal Collective and celebrated the serious rejuvenation of the band's fortunes. That show at Irving Plaza was our first introduction to the live performances of the Painting With material. We also caught the show later in the year at Terminal 5. In the ensuing months, Animal Collective released two EPs with material related to the album and continued to tour. This Spring saw their return to NYC for a show at the new Bowery Presents venue Brooklyn Steel and last Tuesday's show was perhaps the most powerful Animal Collective performance we've experienced in more than a decade of seeing the band.
This was our first experience at Brooklyn Steel and I was impressed. There's definitely a nice vibe to the venue, and the sound quality from our vantage point was on point — full spectrum rich sound with no boominess at all. The intensity of the acoustics in the venue served the band well, as Animal Collective provided thundering bass beats to accompany the multi-layered three-pronged sound delivery system. This tour's version of the band features Panda, Geologist and Avey across the front accompanied by drummer Jeremy Hyman at center rear of the stage. The set featured much of the recent material but also satisfied long-time fans with older tracks democratically selected from their many releases and some deep cuts not heard in years. The sold-out crowd called the band back after a healthy 75 minute main set and we were treated to an extended encore set that closed the night with a lengthy and rousing version of "Summertime Clothes".
Animal Collective's tour continues with some June and July shows, all dates [here].
I recorded this set with the Neumann hypercards mounted at the elevated area inside of the soundboard area and with the mics raised high. The amazing sound in the venue and the choice of microphones worked perfectly as this recording is really quite superb. Enjoy!
Download the Complete Show [MP3] / [FLAC]
Stream the Complete Show:

Animal Collective
2017-05-23
Brooklyn Steel
Brooklyn NY
Digital Master Audience Recording
Recorded at Soundboard Booth
Neumann KM-150 Hypercardioids > Sound Devices 744t > 2 x 24bit 48kHz wav files > Soundforge (post-production) > CDWave 1.95 (tracking) > TLH > flac (320 MP3 and tagging via Foobar)
Recorded and Produced by nyctaper
Setlist:
[Total Time 1:36:14]
01 Kinda Bonkers
02 Hounds of Bairro
03 Sweet Road
04 Bees
05 Guys Eyes
06 Taste
07 Lying in the Grass
08 Pride and Fight
09 Peacemaker
10 Summing the Wretch
11 FloriDada
12 [encore break]
13 Kids on Holiday
14 On Delay
15 Summertime Clothes
SUPPORT ANIMAL COLLECTIVE: Website | Buy Painting With | Facebook