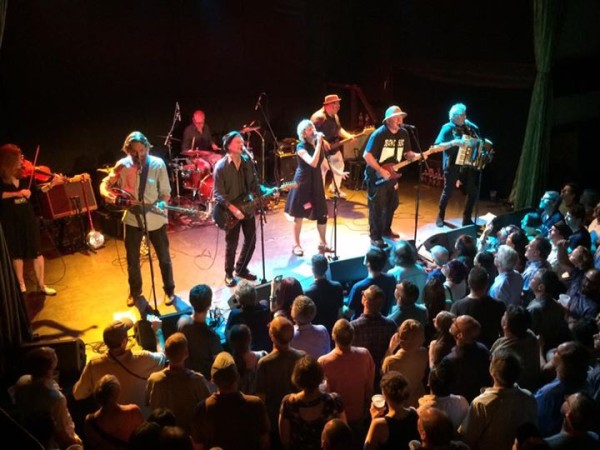 [photo by neild]
It shouldn't be so long between my Mekons concerts. I've seen the band five times over 22 years, generally with 6 or 7 years between shows. The last time was a crazy crowded show at Mercury Lounge in 2009, and before that it was 2007 at Gramercy Theatre, 2000 at Bowery, and 1992 at the Marquee. It isn't like the band doesn't deliver — each of these shows were lengthy and highly entertaining trips through the band's entire catalog. Indeed, Mekons shows are legendary for their remarkable ability to keep the audience engaged through not only the musical performances but the hilarious banter. So much so that the Mekons now have a feature film documentary about them called "Revenge of the Mekons". The success of the film has translated to increased exposure for the band and the result has been a "sold-out" tour that reached the Bowery Ballroom last week. Bowery was indeed packed with a very boisterous and committed crowd who not only interacted with the band but also indulged some of the unpredictable events possible at any Mekons show. Tonight it was Rico Bell's unfortunate misplaced high kick during "Heaven and Back" that resulted in him completely wiping out Jon Langford's amp and other assorted pieces of equipment. For any other band, this kind of clusterfuck would be a disaster, for the Mekons it was a slight blip in the show that ended up being fertile ground for even more hilarious banter. But lest our readers believe this show was messy, this was the tightest and most meticulously performed Mekons show I've seen. Indeed, NYCTaper uber contributor and huge Mekons fan neild, who has likely seen the band a few dozen times remarked to me after the concert that this was the best Mekons show he'd ever seen. I had little cause to disagree. The band played everything from 70's era single "Where Were You?" to tracks from the latest album (2011's Ancient and Modern) and virtually everything in between. I've always loved the 2000 album Journey to the End of the Night (saw the tour) and we're streaming an incendiary version of "Tina" below. The band's 80s catalog was also well represented and we're also streaming an excellent version of Sally Timms' coined 1988 single "Ghosts of American Astronauts".
I recorded this set in our usual manner at the Bowery — Schoeps cards in the balcony and mixed with an excellent board feed. Bowery legend Kenny really nailed the mix on this night and the result is one of the best Bowery recordings we've ever produced. Enjoy!
Download the Complete Show [MP3] / [FLAC]
Stream "Tina":

Stream "Ghosts of American Astronauts":

Mekons
2015-07-21
Bowery Ballroom
New York NY
Digital Master Recording
Soundboard + Audience Matrix
Soundboard [FOH Kenny] + Schoeps CCM4u Cardioids > Sound Devices 744t > 2 x 24bit 48kHz wav files > Soundforge (post-production) > CDWave 1.95 (tracking) > TLH > flac (320 MP3 and tagging via Foobar)
Recorded and Produced by nyctaper
Setlist:
[Total Time 1:55:51]
01 [introduction]
02 Memphis Egypt
03 Beaten and Broken
04 Tina
05 [banter – Mekons tribute band]
06 Millionaire
07 Diamonds
08 [banter – Rehoboth Beach]
09 Abernant 1984-85
10 Heaven and Back
11 [Rico falls]
12 Fantastic Voyage
13 Fletcher Christian
14 Orpheus
15 Now We Have the Bomb
16 Last Dance
17 Curse of the Mekons
18 Hard to Be Human
19 [encore break]
20 I've Gone And Lost My Little Yo-Yo
21 [band introductions]
22 Afar and Forlorn
23 Thee Olde Trip to Jerusalem
24 Ghosts of American Astronauts
25 Shanty – Wild and Blue
26 [second encore break]
27 The Hole In The Elephant's Bottom
28 Powers and Horror
29 Prince of Darkness
30 Belly to Belly
31 Big Zombie
32 Where Were You
If you download this recording from NYCTaper, we expect that you will PLEASE SUPPORT The Mekons, visit their website, and purchase their official releases from the Bloodshot Records website [HERE].