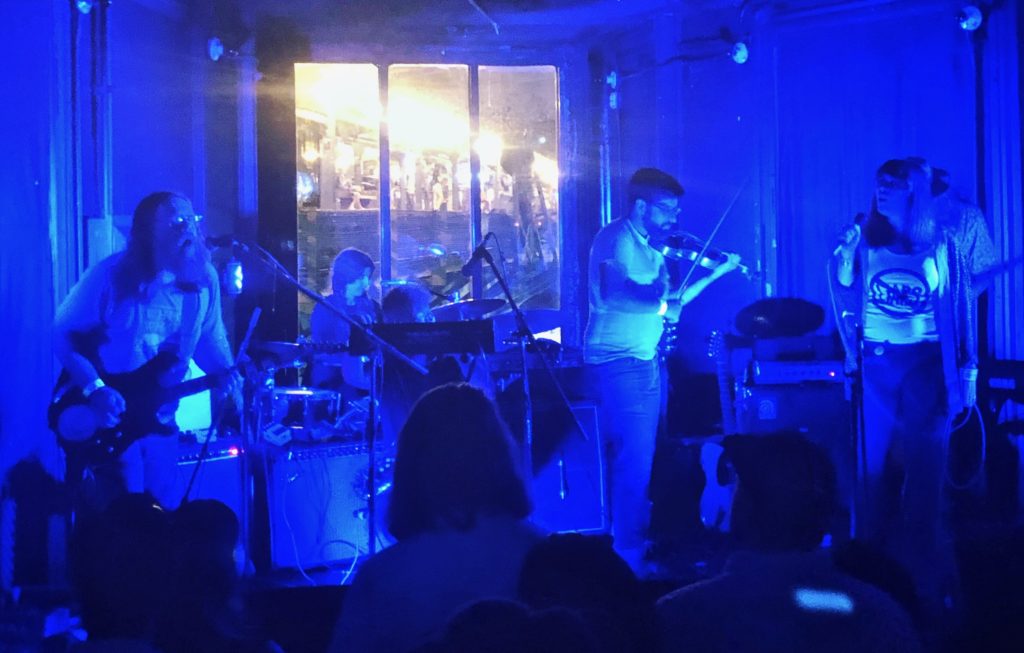 Dire Wolves (in its various incarnations, this one being the Exactly Perfect Sisters Band) is one of those West Coast treats we don't get too often, so when bandleader Jeffrey Alexander brings any version of the band to town, we make sure not to miss it. This has been a prolific year for the band in NYC, with shows both at Nublu in May and Union Pool in February. We aren't complaining — their shows come with the expectation of high originality and little repetition (in the case of those last two shows, exactly one song).
On this night at Market Hotel, presented by this site, Dire Wolves came bearing a special guest, Sunwatchers saxophonist Jeff Tobias, and a new album to jam, courtesy of our friends at Beyond Beyond is Beyond. That record, Grow Towards the Light, was represented here by "I Control the Weather" — its leadoff and arguably most accessible track, if "accessible" is a meaningful thing to say about a band whose proclivities take them into all kinds of different avant-garde spaces. The night's opener, "Archons at the Gates of BSHWCK" began with a tribal drone that evolved into a piece of alt-universe jazz fusion, with Georgia Carbone's vocals sung in an invented language that gave form to the music without a prescribed meaning. The subsequent "I Control the Weather>Love Everybody (For Moses)>Vibrational North Star" combo built on that impeccable start, leading to perhaps the most transporting Dire Wolves performance I've seen yet.
I recorded this set with Neumann KM150 microphones mounted near the stage, together with a soundboard feed from house FOH RL. The sound quality is excellent. Enjoy!
Download the complete show from its Live Music Archive page
Dire Wolves
2019-07-27
Market Hotel
Brooklyn, NY USA
Presented by NYCTaper
Recorded and produced by acidjack
Neumann KM150 + Soundboard (Engineer: RL)>Zoom F8>2x24bit WAV>Adobe Audition CC>Izotope Ozone 5>Audacity 2.3.1>FLAC ( level 8 )
Tracks [Total Time 53:40]
01 Archons at the Gates of BSHWCK
02 I Control The Weather>Love Everybody (For Moses)>Vibrational North Star
PLEASE SUPPORT Dire Wolves: Buy Grow Towards the Light | Buy their other records