Follow @acidjacknyc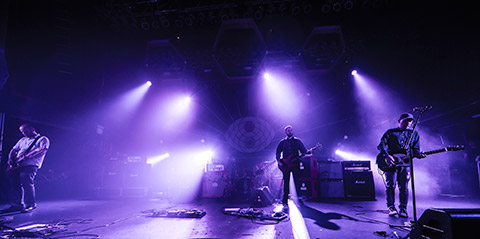 [Photos by P Squared Photography]
Some bands seem born for big stages, fueled by theatrics and spectacle. I first saw Glasgow's Mogwai opening for Pavement in 1997. Back then, drunks in the audience made stupid jokes about kilts and wondered aloud why their songs didn't have any words. Their music had grand sweep — that much was obvious — but their style was still something foreign, hard to imagine outstretching those humble confines, no matter how good it was. Today, this music has become the stuff of soundtracks, more familiar. The difference in Mogwai and many acts that followed is that they not only helped start the trend, but their output defined it. Mogwai have never been simple shillers of the soft-loud dynamic, not even since their early work on Young Team. The band on stage on this night, playing material from their latest release Rave Tapes, has grown in the 14 years since that first show I saw. First through remix albums, and later in their main body of work, the band kept with the times, incorporating a greater degree of electronica and kraut rock into their repertoire. Rave Tapes is the furthest they have taken that aesthetic, with an exclamation point put on that choice by their choice of opening act, the Pittsburgh-based electronic composer Majeure. What hasn't changed since the beginning is the band's kindness to their fans, and the quality and depth of their work. Mogwai, like the sci-fi creature for which they're named, are an ever-evolving, fearsome beast.
As with some of the West Coast and European shows we've seen popping up on the Internet, this set surveyed the band's entire career right from the get-go, from the one-two punch of the Rave Tapes song "Heard About You Last Night" followed by "Friend of the Night" from Mr. Beast and Rock Action's "Friend of the Night", then all the way back to the Ten Rapid days for tour favorite "Ithica 27/9". New York has always held a special place in the band's collective heart, with the band's three-night stand at the intimate Music Hall of Williamsburg having served as the site for the band's live album, Special Moves (two of which shows we recorded). Despite the big light show and the distance between us, this still felt like one of those intimate nights in the many smaller venues they've played on the way here. Their beautiful noise closed the distance.
Together with hi and lo and Johnny Fried Chicken Boy, I recorded this set from our usual spot in the venue, with Schoeps MK41 supercardiod microphones pointed at the stacks, placed on an extension pole almost directly over Mogwai's engineer's head. What you're hearing on this recording is almost exactly what he heard. Enjoy!
This NYCTaper recording is being hosted on the Live Music Archive.  You can stream the entire show by clicking the song titles below or download it via the links provided.
Direct download of the entire show: [MP3] | [FLAC]
Stream the entire show: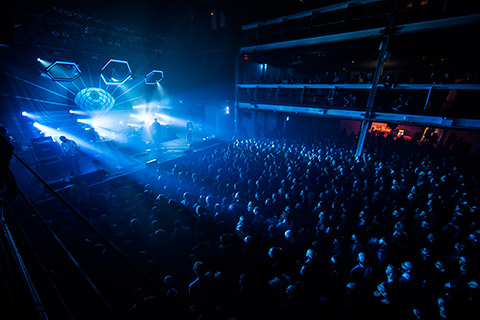 Mogwai
2014-05-09
Terminal 5
New York, NY USA
Hosted at nyctaper.com and archive.org
Recorded and produced by acidjack
Schoeps MK41 (At SBD, DFC, PAS)>KCY>Z-PFA>Sound Devices USBPre2>Sony PCM-D50>24bit/48kHz WAV>Adobe Audition CS 5.5 (fades, light compression), Izotope Ozone 5 (EQ, exciter)>Audacity 2.0.3 (tracking, amplify, balance, downsample, dither)>FLAC ( level 8 )
Tracks [Total Time 1:29:24]
01 Heard About You Last Night
02 Friend of the Night
03 Take Me Somewhere Nice [w/ Luke Sutherland]
04 Ithica 27/9
05 Mastercard
06 Ex-Cowboy
07 Rano Pano
08 Auto Rock
09 How to Be a Werewolf
10 Deesh
11 Re Murdered
12 We're No Here
13 [encore break]
14 Hunted by a Freak
15 Mogwai Fear Satan
16 Batcat
If you enjoyed this recording, please support Mogwai, visit their website, and buy Rave Tapes directly from Sub Pop.