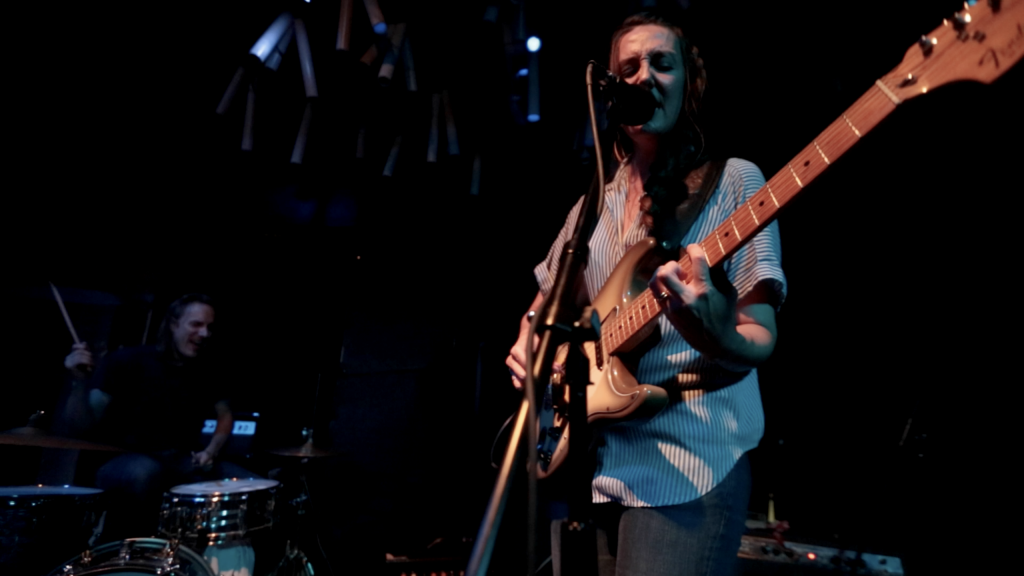 [screen caps courtesy of Jake Remington]
We have been big fans of She Keeps Bees here at NYCTaper for a few years. The duo have appeared on the site a good half-dozen times and we have not been shy with superlatives. The combination of Andy's precise but aggressive percussion and Jess's bluesy guitar is the perfect compliment for that voice — Jess's innate ability to draw out complex and wide range of emotions in each and every song. At Glasslands last week, the band drew an impressive crowd for the dead week pre-Labor Day. The fans were also quite rambunctious as you can hear on this recording. We were encouraged to hear that She Keeps Bees is finishing up recording a new album, and several of those new songs were featured during the set. The band is seeking the right label to distribute the album, and we hope to see it released this Fall. We are streaming "Counter Charm", which was the band's 2012 single release.
I recorded this set with our installed rig in this venue and the sound is quite excellent. Enjoy!
Stream "Counter Charm":

Download the Complete show [MP3] / [FLAC]
Note: All of the material on this site is offered with artist permission, free to fans, at our expense. The only thing we ask is that you download the material directly from this site, rather than re-posting the direct links or the files on other sites without our permission. Please respect our request.
She Keeps Bees
2013-08-29
Glasslands Gallery
Brooklyn, NY USA
Digital Master Recording
Soundboard + Audience Matrix
Soundboard + Naiant X-R Cardioid > Edirol R-44 (Oade Concert Mod) > 2x 24bit 48kHz wav files > Soundforge (level adjustments, set fades, downsample) > CDWave 1.95 (tracking) > TLH > flac (320 MP3 and Tagging via Foobar)
Recorded and Produced
by nyctaper 2013-08-31
Setlist
[Total Time 41:33]
01 Owl
02 Is What It Is
03 Counter Charm
04 [banter – burpees]
05 Breezy
06 See Me
07 [banter – toilet water]
08 Eight Houses
09 [banter – patience]
10 Wasichu
11 Howl
12 Gimmie
13 All or None/Dark Horse
14 [encore break]
15 Release
If you download this recording from NYCTaper, we expect that you will PLEASE SUPPORT She Keeps Bees, visit their bandcamp page, and purchase their official releases from the band's Bandcamp page [HERE].